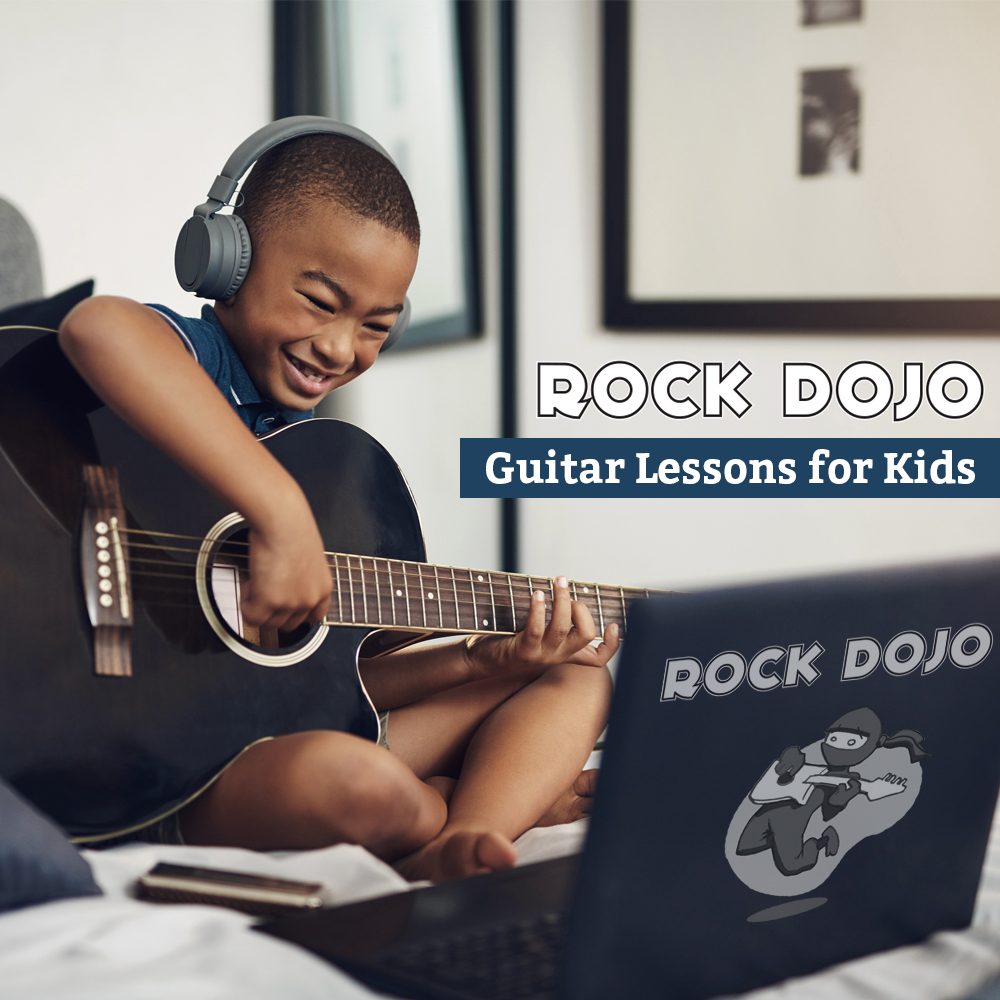 As the coronavirus pandemic continues to wreak havoc on everyday lives, many public schools have closed across the country. On Monday, the White House recommended parents to work from their homes and to homeschool their children as much as possible.
As parents scramble to provide educational activities for kids, it's more critical than ever to include music education in a homeschooling plan. Why? Because playing a musical instrument is the brain's equivalent to a full-body workout. It's also effective for relieving stress and fostering creativity.
Online Guitar Lessons for Kids is the Perfect Solution!
You can leverage the power of music education from the comfort and safety of your home during the coronavirus pandemic with online guitar lessons. To help you make the most of your online guitar lessons for kids, we put together five easy steps to prepare for a great online guitar lesson experience.
Step One: Pre-Lesson Checklist
In order to begin online guitar lessons for kids, you'll need:
a high-speed internet connection.
a functioning computer with a built-in webcam or a smartphone.
a guitar.
a guitar tuner or Guitar Tuna.
Step Two: Download Zoom
Zoom is one of the world's leading videoconferencing software apps. It allows people to virtually interact when in-person meetings aren't possible. It features audio, video, and live chat. Zoom is great for one-on-one meetings, group video conferences, and screen share. Before you get started with your online guitar lesson for kids, you'll need to download Zoom.
Step Three: Watch this Short Zoom Tutorial
Joining a meeting on Zoom is dead easy. To get started, watch this short video tutorial. Please keep in mind, you'll need a 9, 10, or 11 digit code—usually in the form of a link—called a meeting ID before joining a meeting.
Step Four: Print Out the Lesson Material
It's a great idea to print out the lesson material before the start of the lesson. This helps your child get the most out of their online guitar lesson because they can refer to the learning material at any point during the lesson. This is extremely helpful for reviewing chord diagrams, scale charts, and guitar tablature.
Step Five: Tune Your Child's Guitar
Now that you've made it this far, don't forget this final but critical step: tune your child's guitar before the start of the lesson. I highly recommend Guitar Tuna, a free app for iOS devices. If you don't know how to tune a guitar, then this short video tutorial will help you tune your child's guitar in no time!
Online guitar lessons for beginners are the safest and most convenient method for leveraging the power of music education for your child during the coronavirus pandemic. 
To get the most out of your online guitar lesson experience, simply follow five easy steps.
Those steps are:
Make sure you have a guitar and computer or smartphone with a high-speed internet connection.
Download Zoom.
Watch the short video tutorial by Zoom.
Print out the lesson material beforehand.
Tune your child's guitar before the start of his/her online guitar lesson.
SIGN YOUR KIDS UP FOR GUITAR LESSONS
Sign up for Rock Dojo guitar lessons today. Want to learn more? Check out Rock Dojo's FAQs and learn how our colored-belt systems works (here's a hint: it's like karate and you graduate with a black belt). Do you have a specific question about our guitar lessons for kids? Drop us a line at (503) 484-6417. Sign up for after-school guitar lessons in Portland, OR, on the Rock Dojo Find a Class page.