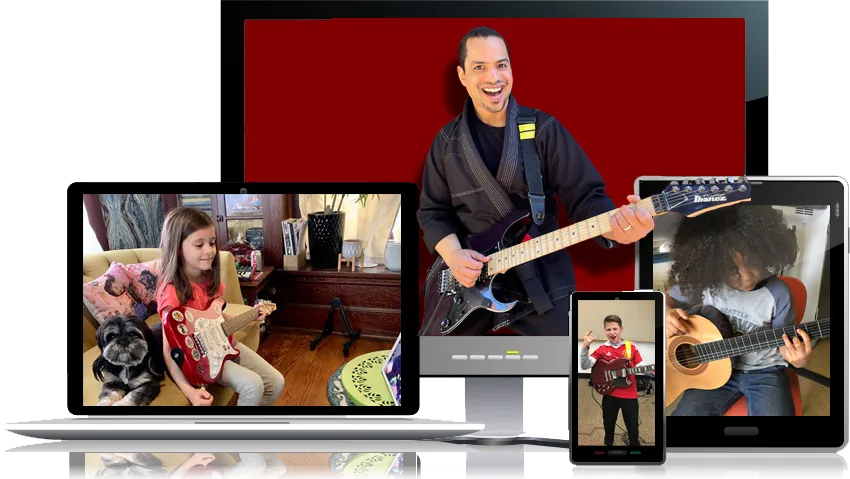 GET A BLACK BELT IN ROCK!
Unleash Your Child's Inner Rock Ninja with Rock Dojo's Online Guitar Lessons for Kids!
Affordable and fun guitar lessons for kids aged 6-12 from home. Earn a BLACK BELT IN ROCK with Rock Dojo's Complete Series of self-paced online guitar lessons. Get started and kickstart your child's rock ninja journey today!
Kansas Education Enrichment Program (KEEP) – Get Funding for Your Child's Guitar Lessons!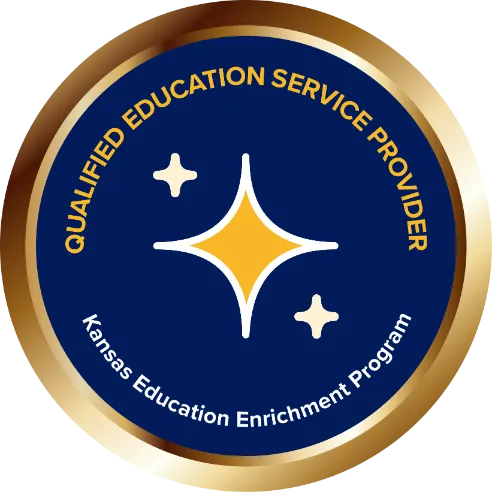 Exciting news! Rock Dojo has become a Qualified Educational Service Provider for the Kansas Education Enrichment Program (KEEP)! Kansas parents and guardians can now use a $1,000 award per eligible child towards our online guitar lessons and other enriching educational activities. Discover more about KEEP and how to apply by clicking here.
Real Reviews from Rock Ninja Families
Discover genuine testimonials from families who've thrived with our curriculum. Ready to join the dojo? Unleash your child's potential in the exciting world of guitar playing today!
April Panowicz
2023-03-08
My kids have never learned any type of musical instrument and they are LOVING Rock Dojo. They came home after their second lesson playing "Brain Stew" by Green Day which my husband and I loved. It was amazing! The lessons move quickly (which is impressive given that kids are challenging to wrangle without a musical instrument in their hands) which keeps them engaged, and I find them hanging out in their rooms strumming and practicing on their own without me pushing. We're big fans, and are moving into our third (8 week) session of once-a week after school lessons with Brian/Rock Dojo. Rock Dojo has some inexpensive rental guitars available and are happy to work with you on that, but we found that the kids really wanted to practice/play on their own between sessions, so we made the investment in their own guitars (you can find pretty inexpensively second hand, and Brian was happy to provide resources/advice on that, too.)
Mariah Kiersey
2023-03-04
My daughter has loved these classes! The teachers a great with kids, very encouraging and make it fun to learn!
Silvia Gozzini
2023-01-03
My kids LOVED the first term and are looking forward to the next term! Brian got our kids to be so excited about guitars, our 8yo asked for an amp for xmass and has been rocking it!
Brian and RockDojo are amazing! I met Brian and Sophie at our elementary school through a class my son attends. I'd tried teaching guitar to my 9 yr-old son for a few years and it never really seemed to click, but once he started playing with RockDojo he got really motivated. A lot of that has to do with Brian's energy, but also the curriculum and the way it's structured. He starts out by giving the kids riffs that are easy to learn with one finger on one string and that are well known, like TNT, Iron Man, 7 Nation Army, etc., and once they get those down he moves to open string bar chord songs like Louie Louie and Wild Thing. My son has been in the class 3 weeks and he's now figured out that all the one-string songs are a lot easier to play if he plays with all his fingers. His progress is nothing short of amazing and I'm sure once the bar chord thing kicks-in, he's going to really start shredding. Brian has really put a lot of thought into the progression of his students. He doesn't skip over theory and rhythm or notation and tablature, and has great warm-up exercises and resources in his material, and the ability for the kids to earn belts toward a black belt is genius. It gives the kids real goals to attain. And that's not all. RockDojo does live events. I was hosting a big fundraiser at our school and was looking for some musical talent to bring to it. The event was a Fun Run, so I wanted something really energetic to get kids motivated as they ran laps around the school. I talked to Brian and he talked to a friend, and they showed-up and played the event as a singer and guitar player. He had a whole set that worked perfectly with the event and they played three sets over the course of 3 hours. It was nothing short of epic. The kids, parents and teachers loved it! It was totally Metal and at the same time appropriate for an elementary school audience. The songs are high-energy, fun and funny. They totally rocked it! I'm already planning on inviting Brian to my next big fundraiser in the Spring. You seriously can't go wrong with RockDojo at an event. 100% recommend!
Diwakar Maharjan
2022-06-24
Great teacher, great personalty awesome with the kids. You don't want to miss taking classes from him. He played guitar at my US World class Taekwondo Hollywood school few times and everyone loves him. GO Rock Dojo.
Such a great program. Brian is a wonderful teacher, the methods are easily accessible, the online tools are helpful and the kids loved the class
Richard Martin
2022-06-09
Great operation, my daughter had a blast and learned a lot.
Charee Filimoehala
2022-05-11
My nine year old is loving his after-school lessons with the Rock Dojo program. He is excited to show us what he had learned on the guitar at the end of each session and is gaining a wider appreciation for music. Thanks Brian!
Kathleen Dixon
2021-08-06
I bought these lessons for my grandson who lives in Colorado. He thought the lessons were awesome and would totally recommend this to all his guitar buddies!
I decided to attend my son's classes with Brian right from the start (we've done 4 classes so far) and I was amazed at the level of detail, insight but most of all, FUN that the Rock Dojo provides. I played a bunch of instruments as a kid from 3-11 grade, and I really liked getting awesome refreshers of music through the lens of the guitar. Be warned however, following your first attendance with your little person, you may end up buying a tidy collection of amps, guitars, basses and pedals. It's massively addictive and tons of fun to understand the process and watch the kids grow as they pick up techniques, read music and start playing riffs of some of the best music out there.
Discover Our Award-Winning After-School Guitar Lessons in Portland!
Rock Dojo offers engaging after-school guitar lessons for kids aged 6-12 in Portland. With a low student-to-teacher ratio, our experienced instructors have taught thousands of students since 2015. Join our supportive community where your child's musical skills can soar. Take advantage of this chance for your child to grow and thrive through music. Enroll in our Portland after-school classes today and watch your child become a rock star!
Experience the Excitement of Live Rock Concerts for Kids in Portland, OR with Our Captivating Video
Immerse yourself in Rock Dojo's exhilarating video showcasing our live concerts for kids aged 6-12 in Portland, OR. Make any birthday party, school event, or celebration unforgettable with our family-friendly shows that inspire the next generation of rock stars. Spark your child's passion for music and create lasting memories by watching the video, exploring our live concert offerings, and booking your event today!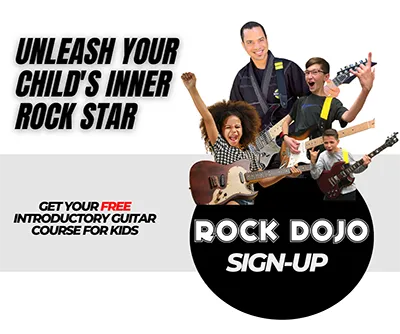 Ignite your child's creativity with Rock Dojo's award-winning guitar program. Get our FREE Introductory Course for Kids today!
Get a Black Belt in Rock with Fun & Engaging Guitar Lessons for Kids
Rock Dojo offers online group and private guitar lessons, e-books, and video-on-demand lessons for children aged 6-12. Our martial arts-inspired belt system keeps kids engaged and motivated to practice and improve. Cultivate your child's talent with the Rock Dojo Complete Series – join today!
Discover the Benefits of Rock Dojo's Online Guitar Lessons for Kids & Learn from Anywhere
Check out our trailer for Rock Dojo's video-on-demand series, where founder and lead instructor Brian "Guitar Sensei" Parham explains the benefits of our award-winning online guitar program.
Achieve Your Musical Dreams with Our #1 Online Guitar Lessons for Kids
Discover unparalleled value with the Rock Dojo Complete Series, offering our award-winning curriculum for just $249, equivalent to forty private guitar lessons. Save nearly $2,400 in private lesson fees while allowing your child to learn guitar at their own pace and in the comfort of their home. Our comprehensive program helps build self-esteem, self-discipline, and a lifelong skill – all while mastering the art of rocking the guitar! Don't miss this opportunity for your child to shine; sign up now for the Rock Dojo Complete Series!
Online Guitar Lessons for Kids: Success Stories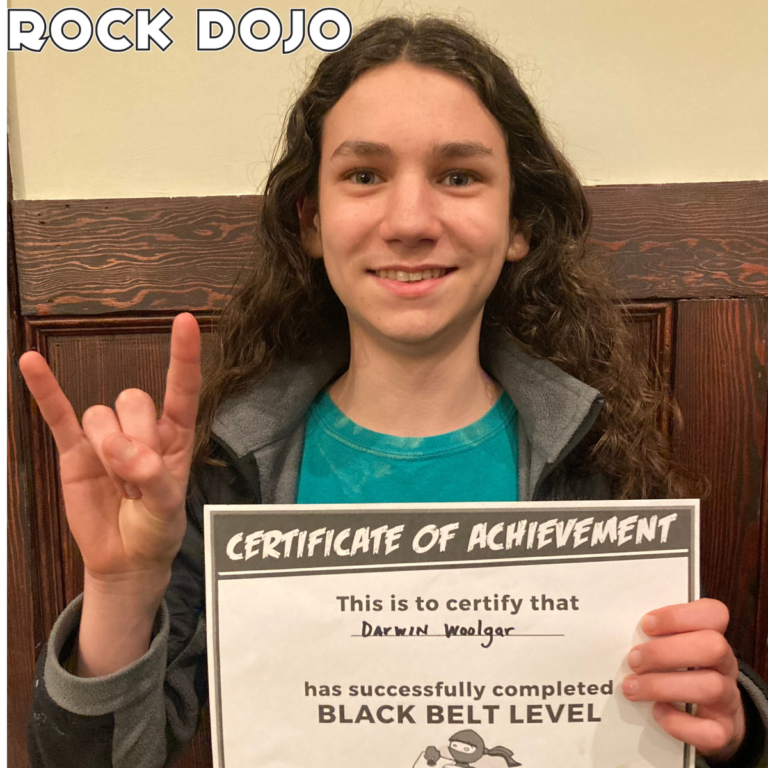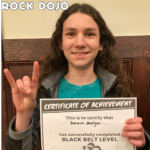 Meet Darwin, a 16-year-old guitar prodigy who transformed from a beginner in our after-school guitar program to a black belt in rock guitar through our online course. Learn more.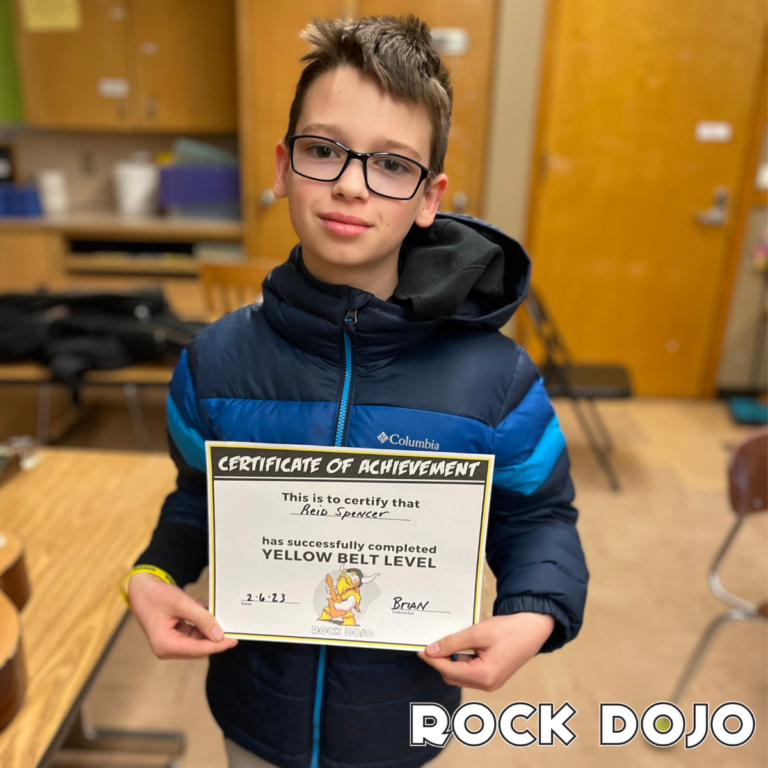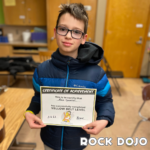 Discover Reid, a talented ten-year-old who achieved his yellow belt in rock guitar and scored straight A's on his report card. Learn more.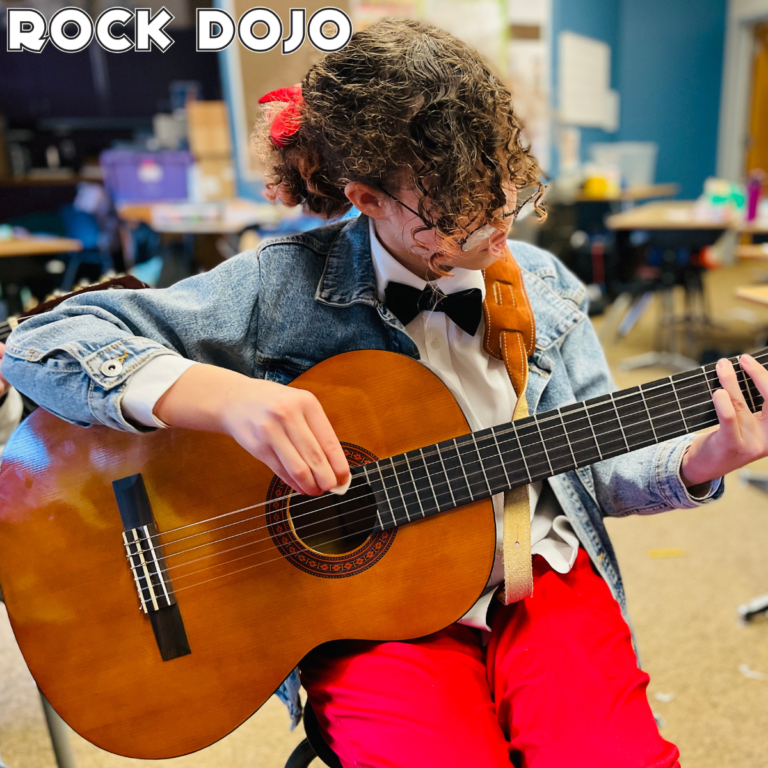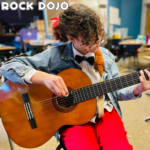 Introducing Iris, an eleven-year-old student who earned her yellow belt in rock guitar. In the process, she gained confidence and enhanced her social skills. Get your child started today!
Resources for Guitar Lessons for Kids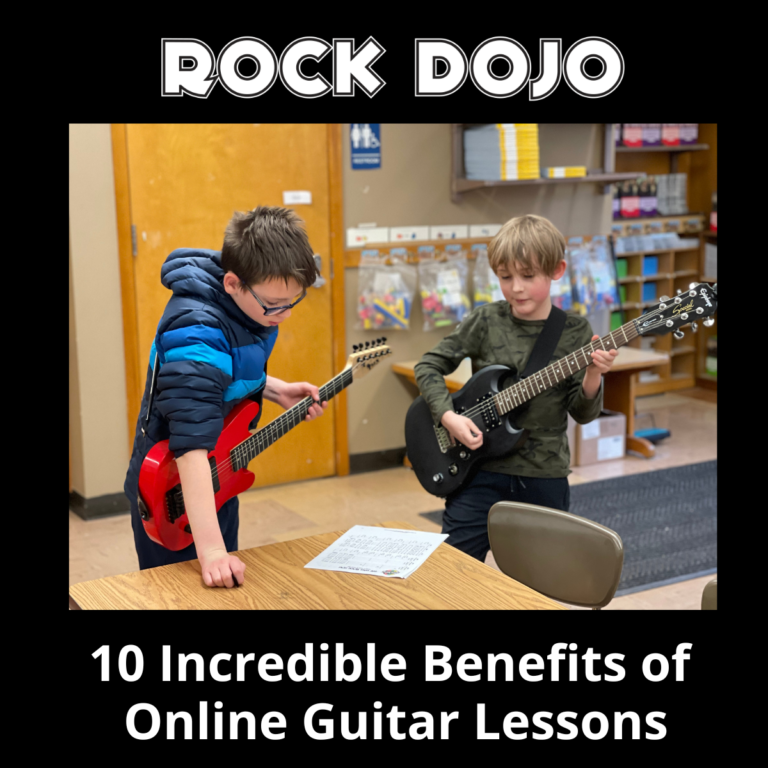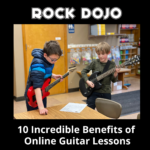 Ten Incredible Benefits of Online Guitar Lessons: How can online guitar lessons transform your child's life with many mental, emotional, and social benefits? Learn more.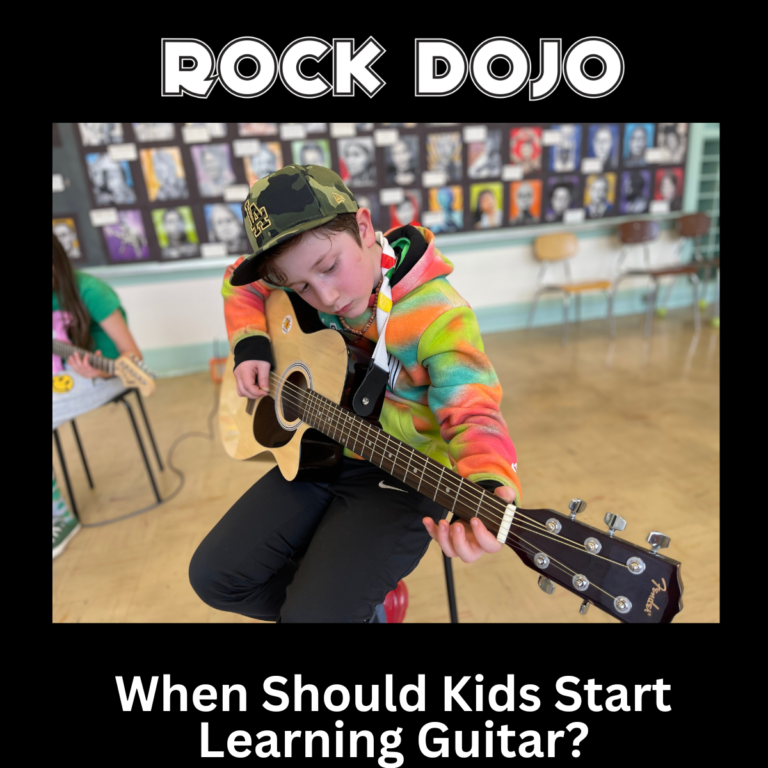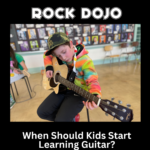 Best Age to Start Guitar Lessons: What's the ideal age for kids to start learning guitar? Plus, you'll learn three key signs your child is ready for guitar lessons. Learn more.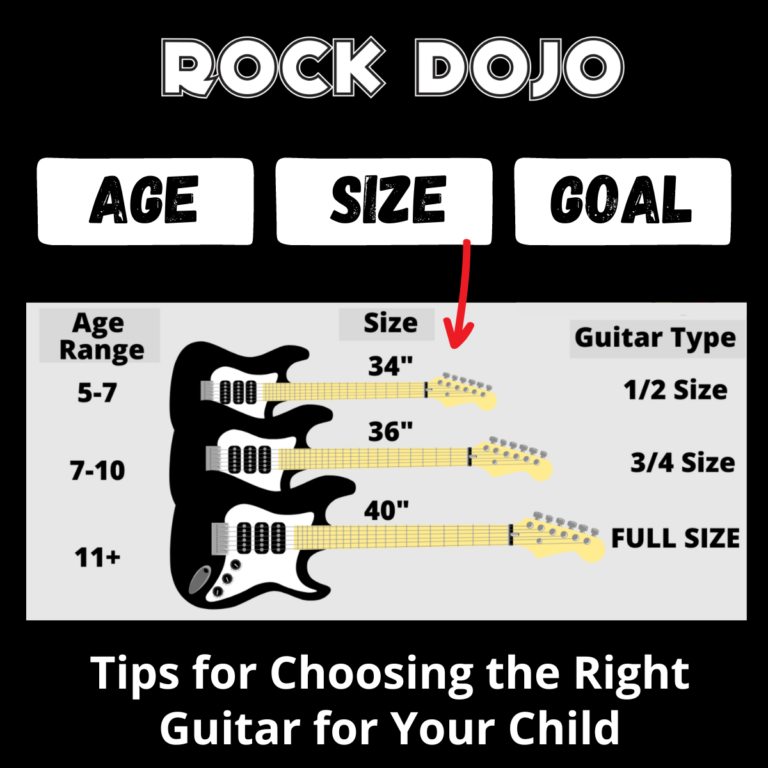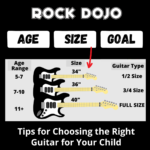 Choosing the Right Guitar for Your Child: How do you select the right guitar based on your child's age, size, and skill level to help your child have a positive and comfortable experience? Learn more.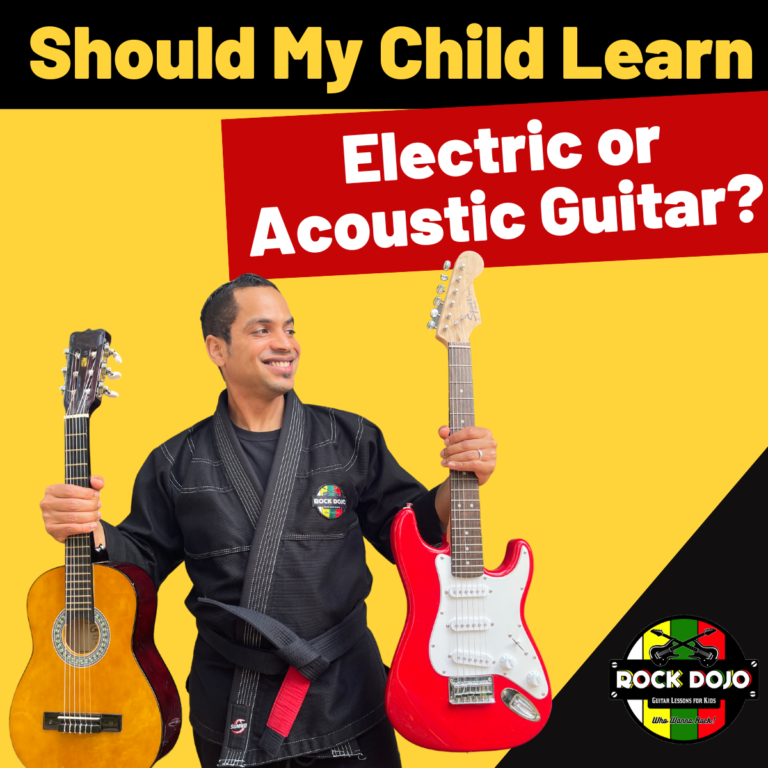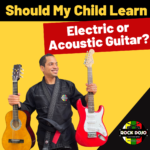 Acoustic vs. Electric Guitar: If your child is interested in playing the guitar, you may wonder which is better: electric or acoustic? Learn more.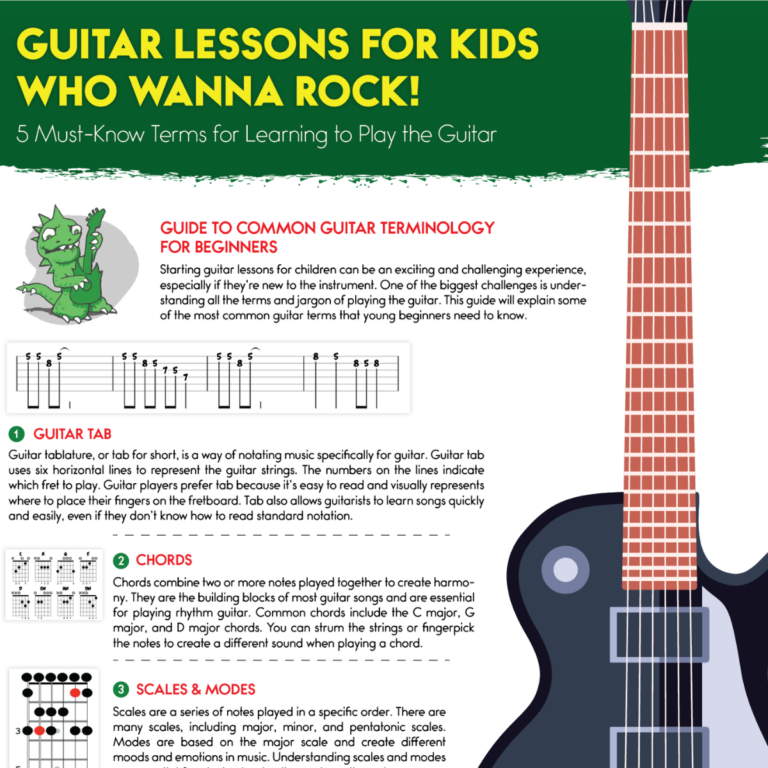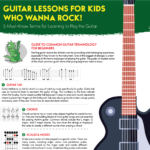 A Crash Course in Guitar Terminology: Looking for must-know guitar terms that parents need to know to help their children have a positive and fun guitar learning experience? Learn more.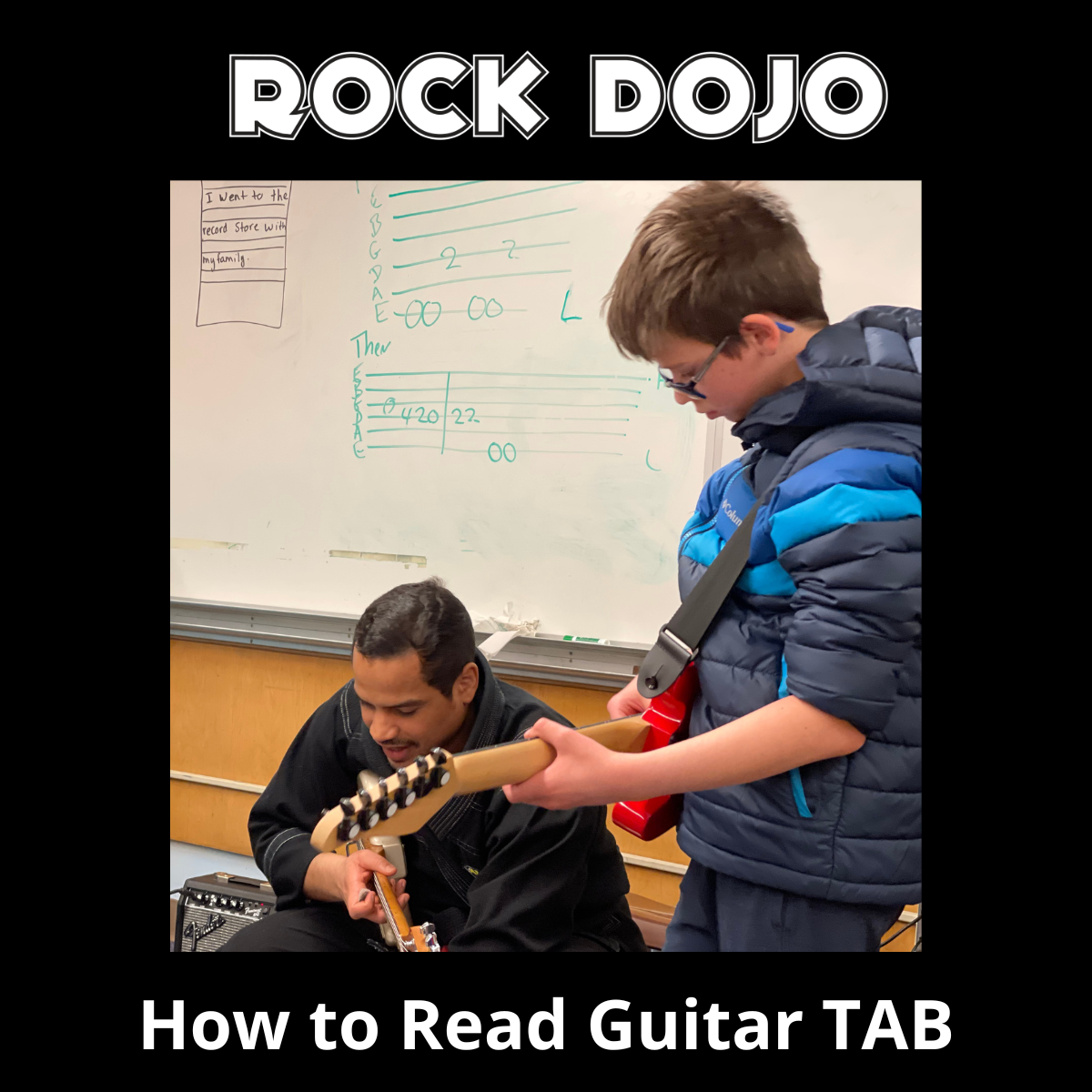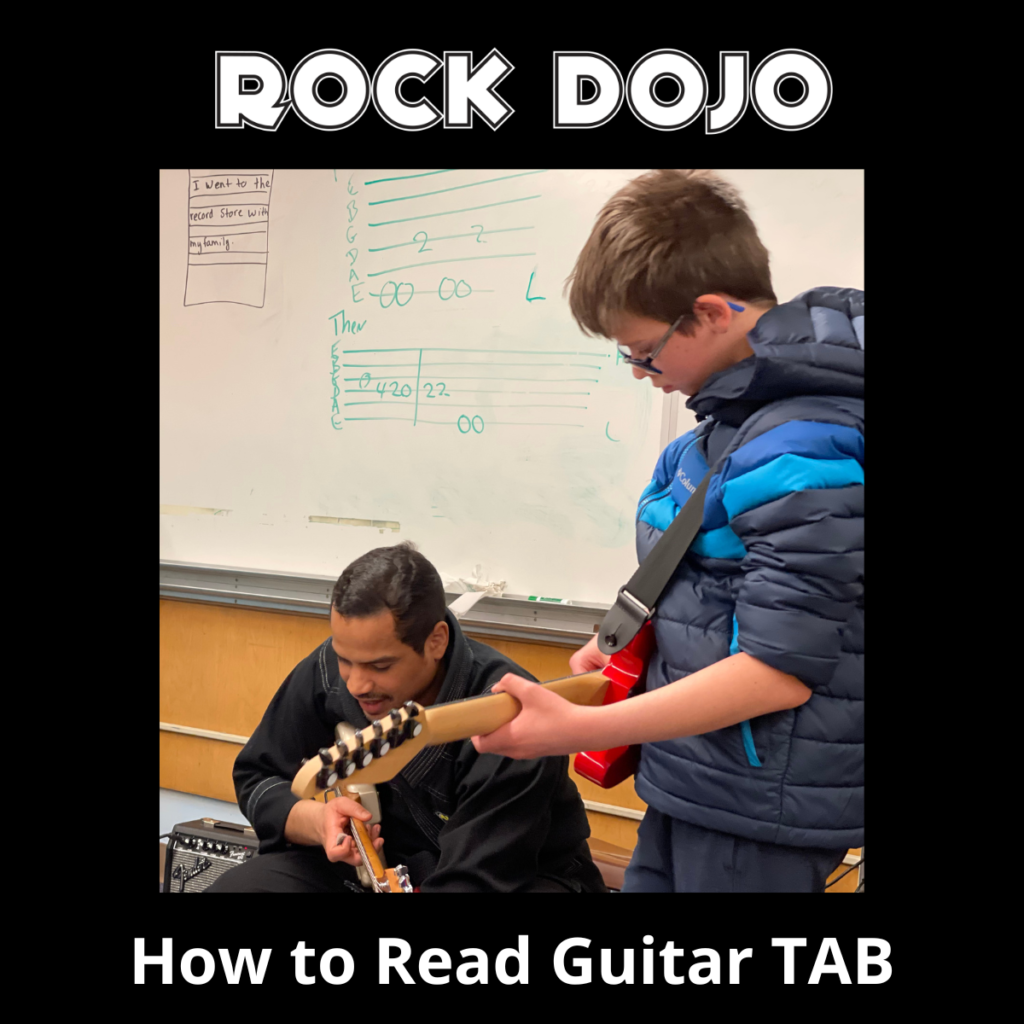 Learn to Read Guitar Tab: Desire to support your child's practice but unsure about reading guitar tab? Worry not. Rock Dojo is here to assist. Learn more.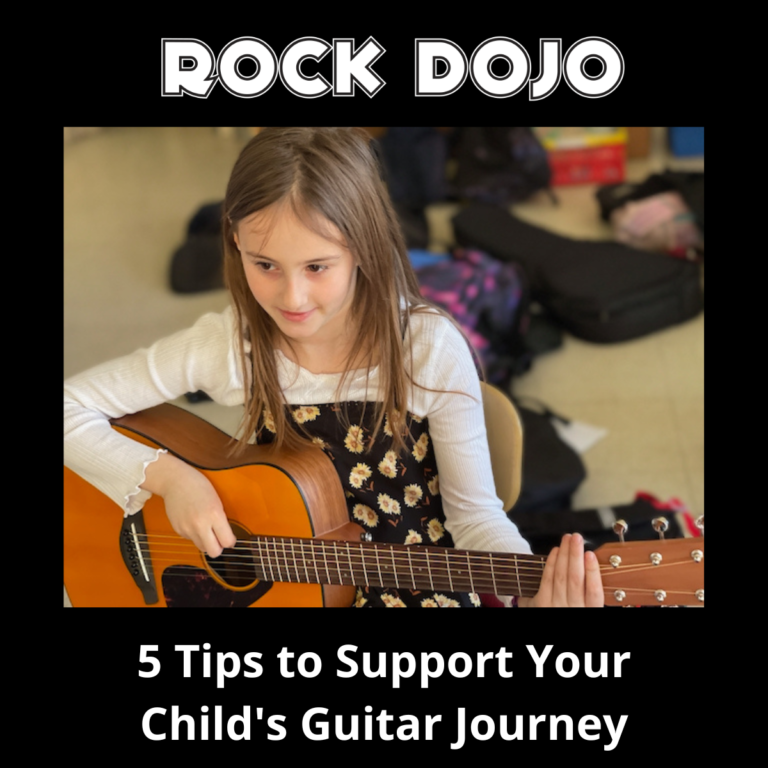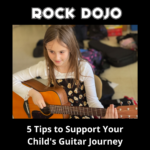 Support Your Child's Guitar Journey: Are you ready to help your child embark on an exciting guitar-learning journey and ensure their success? Learn more.
Our Experienced Instructors Teach Guitar Lessons for Kids Aged 6-12
Meet our passionate instructors at Rock Dojo and develop complete musicianship and a lifelong love for music. Meet our instructors and learn more on our About Us page! Contact us on Facebook or Instagram if you have any questions!
---