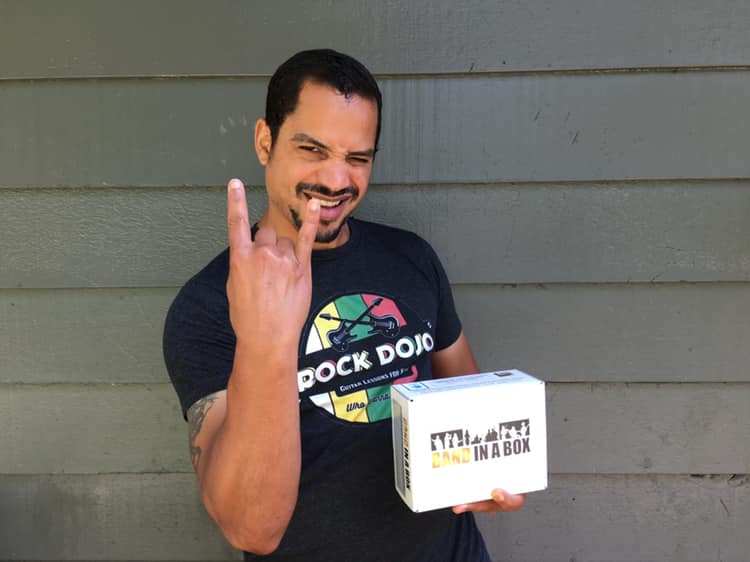 It doesn't matter whether you're a guitar teacher or a student guitarist, Band-in-a-Box (BIAB) is must-have software to take your teaching practice or your playing to the next level! Since BIAB boasts a jaw-dropping number of features, we decided to put together our top five reasons why we love Band-in-a-Box and why we think you'll love it too.
1. Band-in-a-Box Saves Time
If you teach guitar for a living, then you know how time-consuming lesson prepping can be. Indeed, you can spend hours creating lesson plans, chord charts, neck diagrams, and learning songs. Ouch! The last thing you want to do is spend more of your precious time creating backing tracks from scratch. That's where BIAB comes in. While the interface takes some time getting used to (more on that later), we were able to create our first track after about an hour learning curve. Today, we can create a full backing track faster than you can say, "E minor pentatonic scale in the open position with the added blue notes as passing tones!"
2. Band-in-a-Box is Great for Developing Rhythm
When it comes to playing the guitar (or any other instrument for that matter), rhythm is king. While the metronome has been the tool of choice for cultivating rhythmic skills for almost two centuries, BIAB makes the process a whole lot easier and more fun because it provides guitar students with the opportunity to lock in with some of the top session drummers and bassists on the planet.
3. Band-in-a-Box is a Great for Learning Chords
Mastering the open position chords is a make-it-or-break-it moment for many student guitarists. Unless you play the guitar, you might not realize just how challenging it can be to play a simple open position C major chord—or God forbid—the dreaded F major chord in the first position. That's why we love leveraging BIAB backing tracks to teach students how to play chords in time with a full band.
4. Band-in-a-Box is Great for Taking Solos
It's no secret: guitar players love taking guitar solos! That's because a great solo is like surfing a wave. When you catch the perfect wave, you feel utterly free. With BIAB, you'll always catch the perfect wave because the backing tracks sound incredible. The styles include country, jazz, bluegrass, rock, Latin, and many other styles. But since this is the Rock Dojo, we spent the vast majority of our time jamming with blues, rock, and metal backing tracks.
5. Band-in-a-Box is Also Great for Composing
If you're a songwriter, then BIAB is a great way to quickly build rhythm tracks and export them to your favorite DAW. Since we usually use it to write song studies for our students, our process looks like this: A. Compose an original riff or chord progression on the guitar. B. Transfer the progression to BIAB. C. Mute all the guitar tracks. D. Export the audio file to Garageband. E. Record real guitar parts. BONUS STEP: Proudly share our new song study with students from our online guitar lessons for kids.
Concerns about Band-in-a-Box
While BIAB has some incredible features, it's not without its challenges. If you're familiar with programs like iRealPro with an interface that is practically seamless, then you will have to spend some time getting familiar with the BIAB interface. Fortunately, BIAB has an extensive collection of video tutorials. If you're the kind of person who has the patience to follow video tutorials, then you shouldn't have any issues getting acquainted with the BIAB interface.
The second concern is the price, which starts at $129. For some musicians, that is a lot of money, especially when they can purchase other backing track generators for a fraction of the price like iRealPro. However, the sound quality of iRealPro doesn't even begin to compare the amazing, real-world audio-quality of BIAB, which uses "real track" technology of actual instruments being played by actual musicians.
FREE BACKING TRACKS
This FREE backing track by Band-in-a-Box is a great way to practice your chord changes. The following chord progression is the most popular pop chord progression in the world. It's called the I V vi IV chord progression, and it's been used in countless songs.
SIGN YOUR KIDS UP FOR ONLINE GUITAR LESSONS FOR KIDS
Sign up for online guitar lessons for kids today. Want to learn more? Check out Rock Dojo's FAQs and learn how our colored-belt systems works (here's a hint: it's like karate and you graduate with a black belt). Do you have a specific question about our guitar lessons for kids? Drop us a line at (503) 484-6417. Sign up for after-school guitar lessons in Portland, OR, on the Rock Dojo Find a Class page.