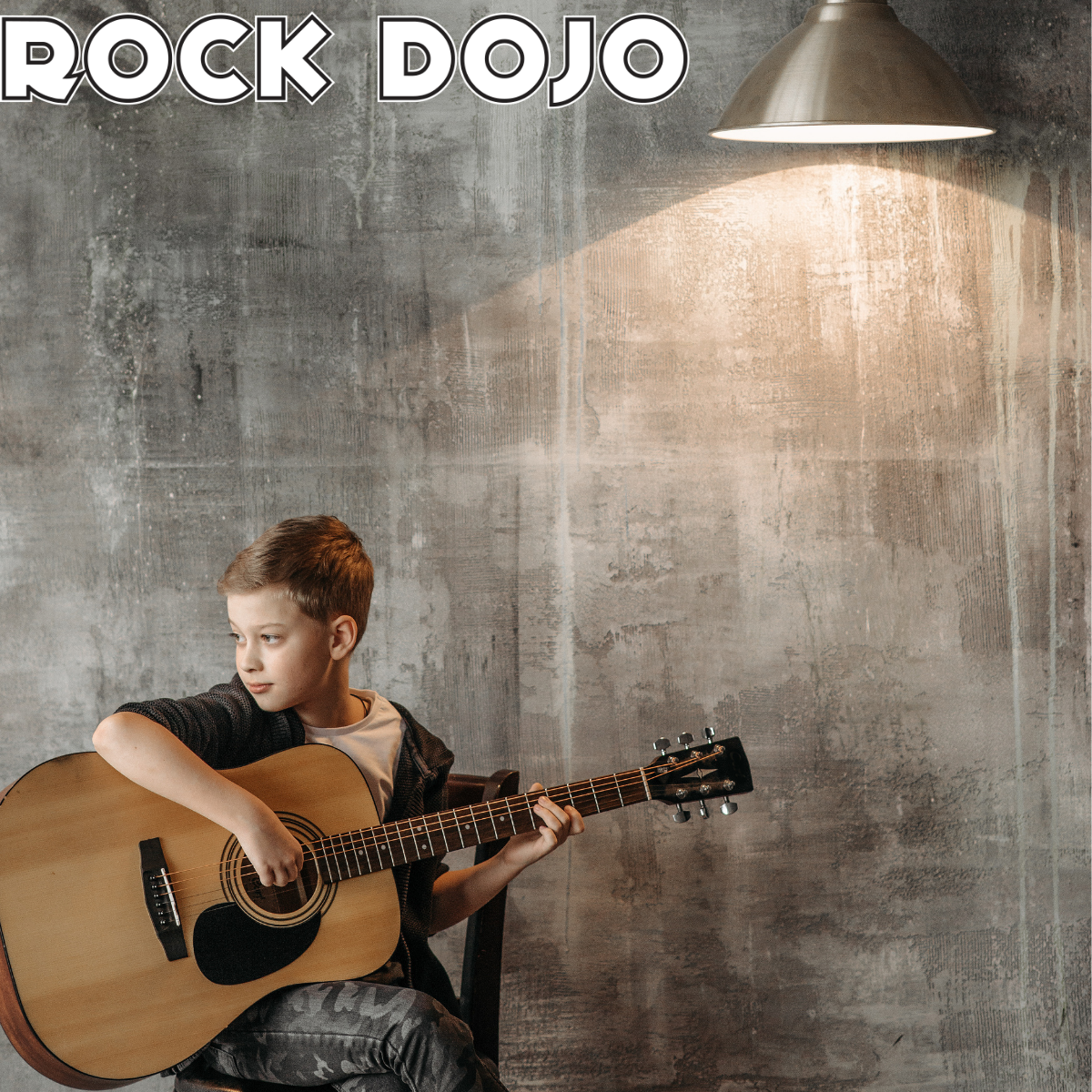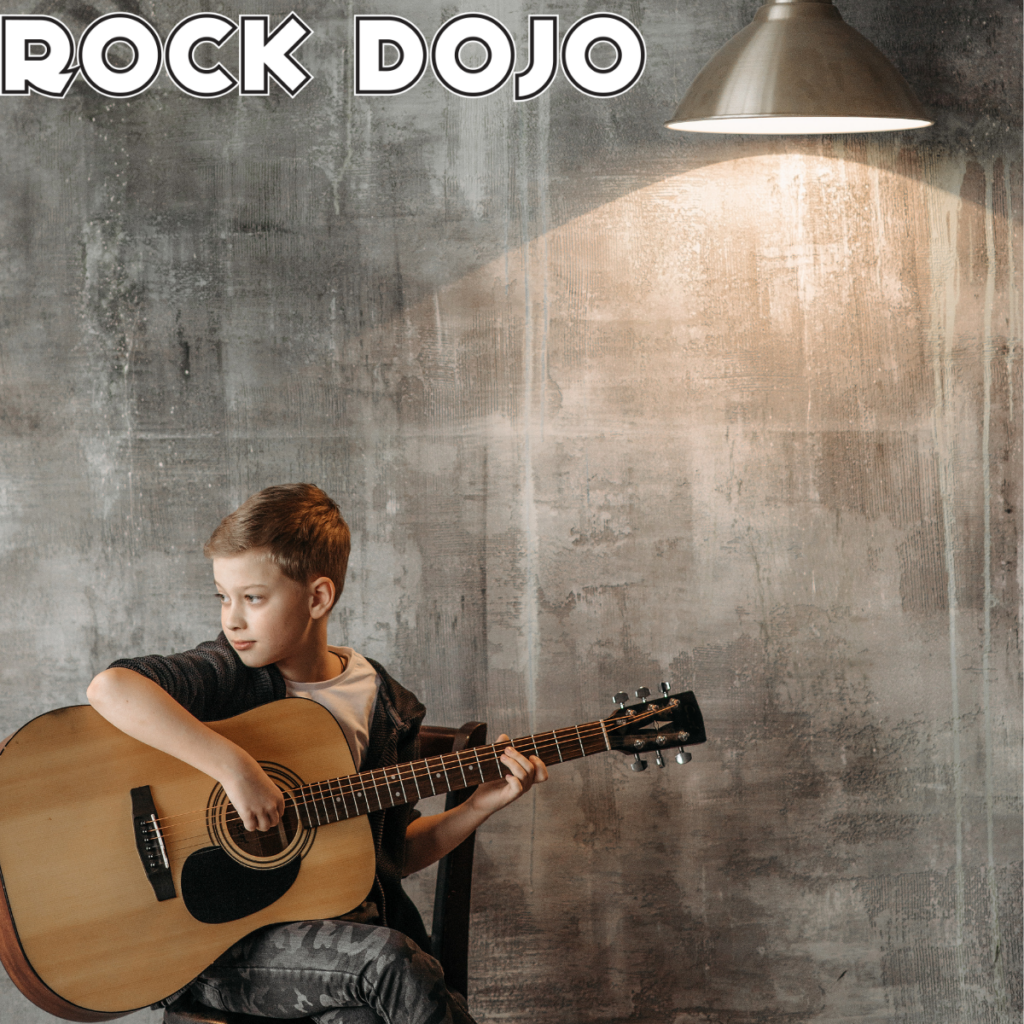 Online Group Guitar Lessons for Kids Q&A
Do you have questions about Rock Dojo's online group guitar lessons for kids? Well, you've come to the right place! In this post, I'll answer the top three most frequently asked questions Rock Dojo receives from parents like you.
On the other hand, you can get your child started playing the guitar today for free when you register for Rock Dojo's free introductory guitar course for kids.
How Do I Motivate My Child to Practice for Online Group Guitar Lessons?
Many parents would love to see their children enjoy the lifelong benefits of playing the guitar, but they don't want to fight about practice. Rock Dojo hears this question a lot. Rock Dojo spent a lot of time wrestling with this question. In the process, Rock Dojo designed a series of tools and practices to enjoy the benefits of playing guitar without the friction around the course.

Those tools include practice charts, parent-student contracts, and the Rock Dojo belt system, created to motivate students to practice the guitar on their journey to a black belt in rock!
As for practices, here's the best way to enjoy the benefits of music education while simultaneously avoiding the stress of arguing with your child over practice:
Set SMART Goals: Goals provide students with specific outcomes to aim towards.
Establish Milestones: A milestone is an event marking a significant change or stage in development.
Celebrate Victories: This is the crucial step in the formula because you and your child connect hard work and rewards.
That was just a brief overview. You can read the full article for an in-depth look at goals, milestones, and rewards.
What's the Difference Between Live Online Group Guitar Lessons and Video On-Demand Lessons?
Live online group guitar lessons are instructor-led classes meeting once per week on Zoom for a total of eight weeks. The live online group guitar lessons cost $297. The cool thing about the live online group guitar lessons is that each student who registers receives a video-on-demand course valued at $197 and a student handbook valued at $25.
On the other hand, the video-on-demand course is self-paced, featuring pre-recorded videos, interactive quizzes, and more. Although each student receives a student handbook, it is entirely self-paced.
How Do Live Online Guitar Lessons Compare to In-Person Guitar Lessons?
Many parents love the convenience of online guitar lessons, but they're worried online guitar lessons won't work for their children. While there are some tradeoffs, online guitar lessons offer some huge advantages over in-person classes.
Convenience: No more lugging your gear to your child's guitar lessons. No more dealing with rush hour traffic on the commute to the music studio. Online guitar lessons are the most convenient way to learn to play the guitar. Today's technology makes guitar lessons more convenient than ever. Now, your child can study with Rock Dojo's world-class guitar instructors from the comfort of your home.
Zoom Features: Zoom has some incredible features for guitar lessons. Rock Dojo's favorites include screen share, which allows instructors to share their music sheets with students, so they can focus on the music without distractions.
Video On-Demand Lessons: With Rock Dojo online guitar lessons, your child can meet with an instructor for their weekly live online lesson. Then, he or she can work through the material at their own pace using Rock Dojo's video-on-demand course, which reinforces the material covered in class.
On the other hand, there are some drawbacks to online guitar lessons, but they may not be what you think. In my experience teaching hundreds of Rock Dojo online guitar lessons, the biggest drawback students have with Zoom is playing their guitars and backing tracks.
FREE Introductory Guitar Course for Kids
Your child can get started playing the guitar the right way with Rock Dojo's free introductory guitar course for kids. Register for Rock Dojo's bi-weekly newsletter, and you and your child will receive a free introductory guitar course for kids. By the end of the course, your child will be well on the way to becoming a rock ninja! Sign up today. It's free, and you can cancel at any time.