on Friday, December 27, 2019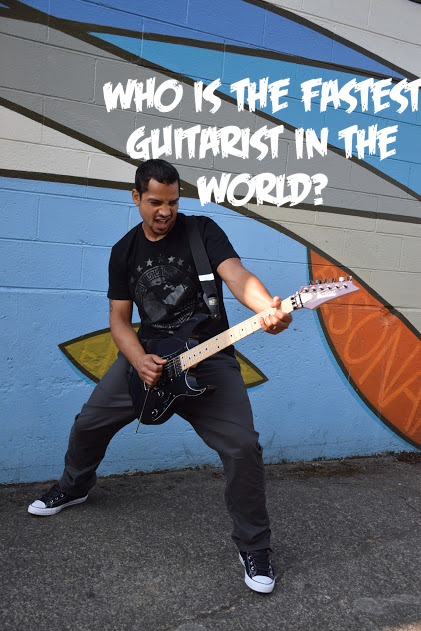 ASK BRIAN: Every Saturday we post actual questions from real Rock Dojo students. Today's question comes up a lot. It turns out, kids love fast guitar players! For that reason, I put together a list of the world's fastest guitarists. These guitar players race, they blaze, they take shred to a new level!

John 'Dr. Hot Licks' Taylor
While John Taylor is a relatively unknown guitarist compared to the rest of the musical behemoths on this list, he does hold the Guinness Book of World's Record as the "World's Fastest Guitarist." In fact, it's a title he's held since 2011 when he set the record for playing "The Flight of the Bumblebee" at 600 beats-per-minute (bpm)! In 2012, he went on to set a new world record in Kowloon, Hong Kong, playing the same piece at 620 bpm!
Yngwie Malmsteen
Yngwie Malmsteen is a Swedish born guitarist who's been dropping jaws since the release of Rising Force in 1984. Rising Force went on to win the Best Album of the Year by Guitar Player Magazine, earned a Grammy nomination, and influence a generation of guitarists who followed. In many ways, Yngwie Malmsteen is the father of neoclassical guitar playing, a style of guitar known for its technically virtuosic playing and lightning-fast guitar runs. In 2009, Time Magazine ranked Malmsteen the 7th greatest electric guitarist of all-time.
Steve Vai
Steve Vai, a three-time Grammy winner, is one of the fastest guitarists and most influential guitars of all-time. He made his professional debut at the age of 18 playing guitar for Frank Zappa. Since then, he's recorded with Whitesnake, David Lee Roth, and Ozzy Osbourne.  His 1990 instrumental album, Passion and Warfare, has been described as "the richest and best hard rock guitar-virtuoso album of the '80s." Just how fast is Steve Vai's guitar playing? Well, when Crossroads director, John Fusco, needed a guitarist to play Jack, Bulter, the devil's ringer who sold his soul for his guitar skills, Steve Vai was the man he turned to. His epic guitar battle at the end of the film is a stunning display of musical ferocity! 
Jason Becker
Jason Becker is an American-born guitarist and composer. At the age of 16, he burst onto the music scene with his band, Cacophony, which featured his friend—and legendary shred guitarist—Marty Friedman. In 1988, his solo album, Perpetual Burn,  introduced Becker to the world as a bonafide guitar god. Sadly, Becker's playing career was cut short by ALS, or amyotrophic lateral sclerosis, a progressive neurodegenerative disease, which prevents him from playing the guitar. In the face of this incurable disease, Becker has honed his compositional abilities. His 2018 album, Triumphant Hearts
, is a musical masterpiece.
Paul Gilbert
By the age of 17-years old, Paul Gilbert was already a guitar legend for his blazing fast guitar playing and massive repertoire. In 1985, he was hired by the Guitar Institute of Technology (GIT) as an instructor while attending the legendary guitar college as a student. His band, Racer X, took Hollywood by storm that same year introducing Gilbert to the world. Songs like "Techincal Difficulties" and "Frenzy" established Gilbert as one of the fastest and most technically accomplished guitarists in the world.
Your Kid Can Get a Black Belt in Rock!

Sign Up for Online Guitar Lessons for Kids
Register today for online guitar lessons for kids. The Rock Dojo offers award-winning, introductory-level guitar lessons for kids after-school in Portland, Beaverton, Hillsboro, and Lake Oswego. You can check out the Rock Dojo FAQs to learn how our colored-belt systems works (hint: it's like karate. As your students improve on the guitar, they graduate belt levels just like the martial arts). Do you have a specific question about our guitar lessons for kids? Drop us a line at (503) 484-6417 or contact us on the Rock Dojo Facebook page.