on Sunday, November 17, 2019
Welcome back to your first five guitar lessons for kids. In today's lesson—the fourth installment in this series—you're going to learn a riff that sounds like one of the most iconic guitar anthems of all time: Iron Man by Black Sabbath!
What's a Guitar Riff, Anyways?
A riff is a short, repeated musical phrase. Riffs are written to catch the listener's attention. A great guitar riff is singable, repeatable, and instantly recognizable! They're also great learning tools for kids because guitar riffs are often easy to play and immediately rewarding!
Guitar Lesson for Kids #4: Sounds Like Iron Man
Iron Man was written and released by the British heavy metal band, Black Sabbath, in 1979. The signature riff was written by their legendary guitarist, Tony Iommi. When lead singer Ozzy Osbourne first heard Iommi play it on guitar, Osbourne said, "That sounds like a big iron bloke walking about."
While many kids think this signature riff was written as Tony Stark's theme song, the song originally had no connection to the Marvel Comic's character of the same name. Of course, anyone who has seen the Iron Man movies released since 2008 knows this legendary heavy metal riff plays during the final credits.
How Do I Read Guitar Tab?
Guitar tablature—more commonly known as guitar tab—is a simple way for guitarists to learn how to play chords, melodies, and songs. If you write original music, it's also a great way to communicate your musical ideas to other musicians.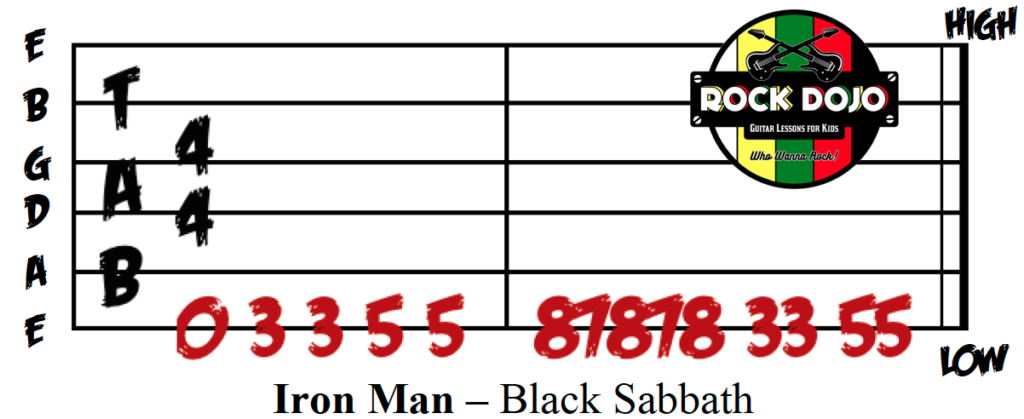 The horizontal lines represent the guitar strings, and the numbers represent the frets. The most challenging aspect of reading guitar tab is the string order because it's counter-intuitive. The low E-string is at the bottom and the high E-string is at the top.

SIGN YOUR KIDS UP FOR GUITAR LESSONS
Sign up for Rock Dojo after-school guitar lessons today in Portland, OR. Want to learn more? Check out Rock Dojo's FAQs and learn how our colored-belt systems works (here's a hint: it's like karate and you graduate with a black belt). Do you have a specific question about our guitar lessons for kids? Drop us a line at (503) 484-6417.