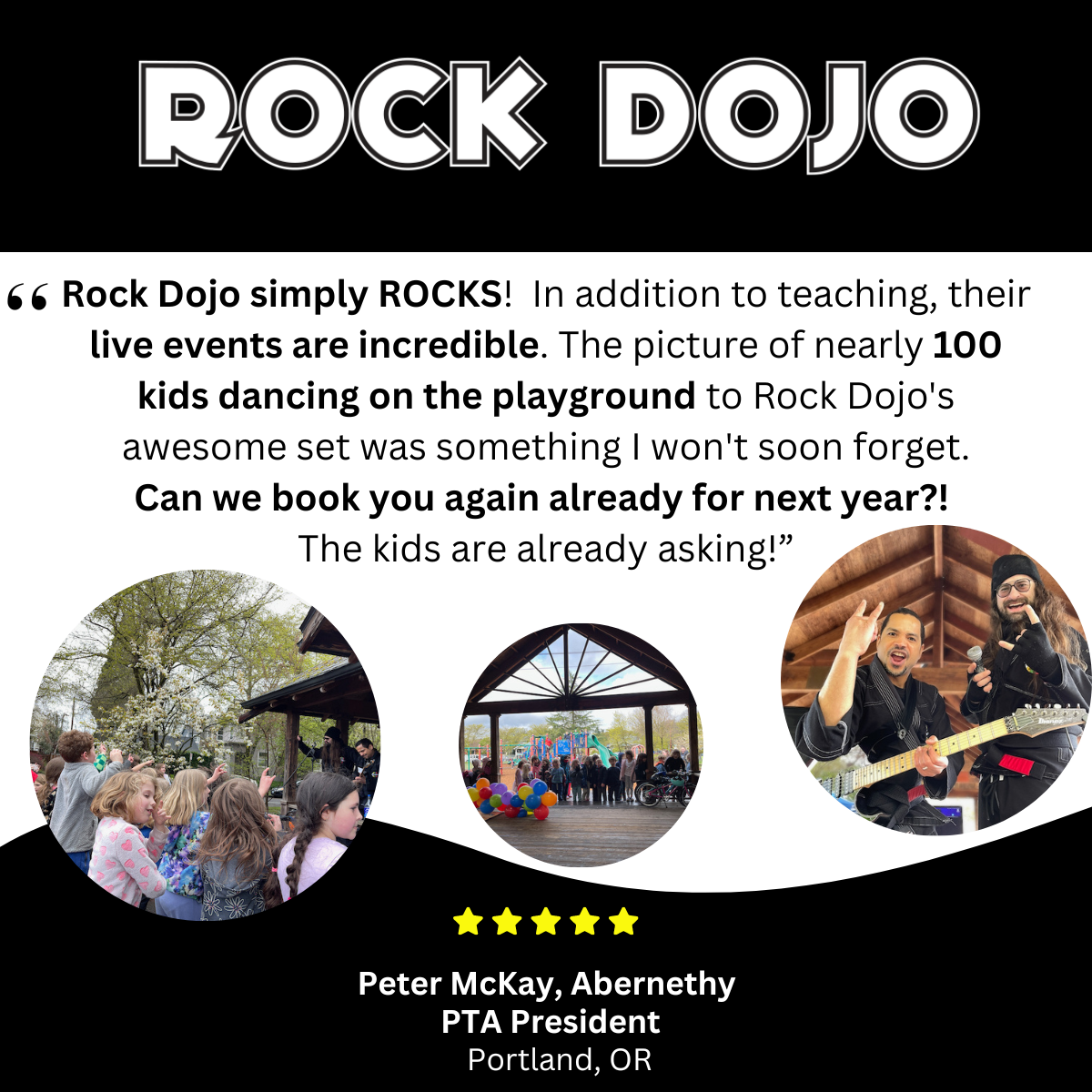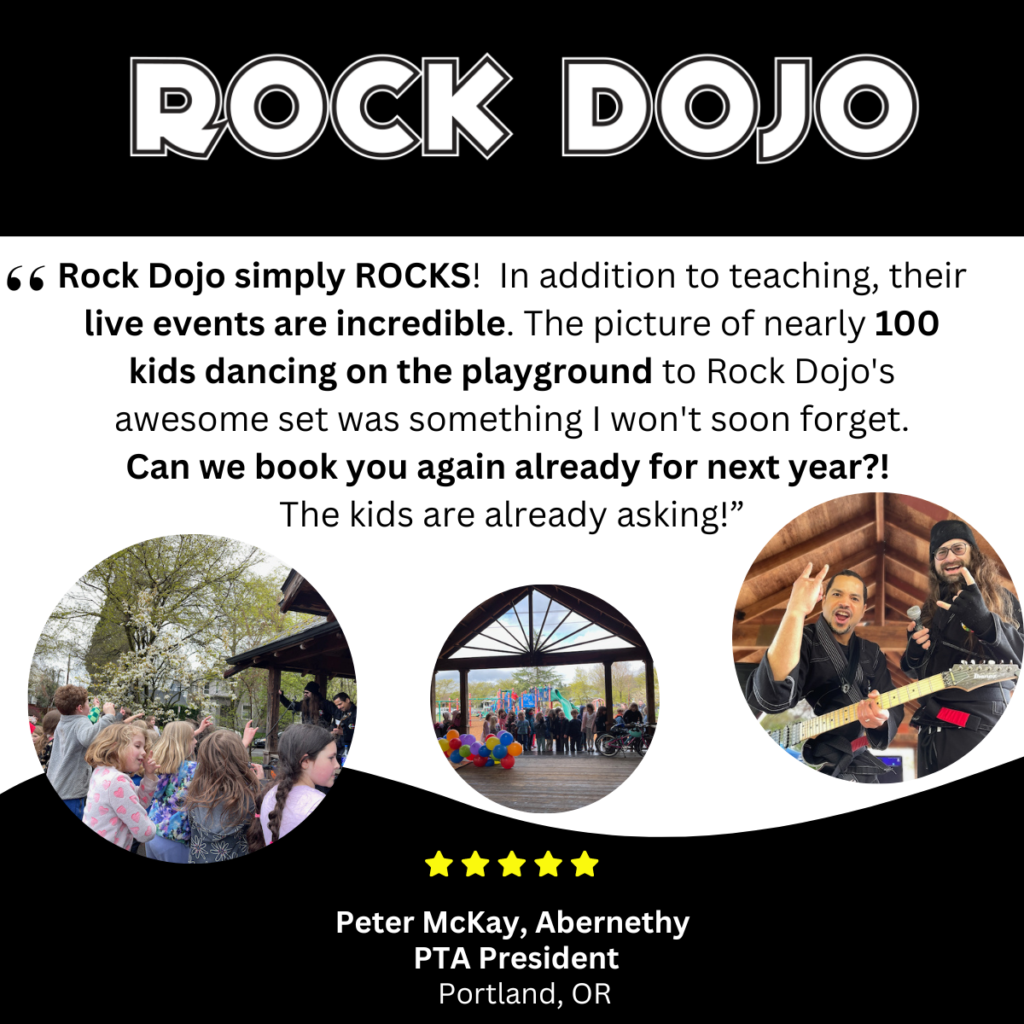 Portland's Rock Dojo Live Concerts: Elevating Music Education
Rock Dojo, based in Portland, OR, offers exciting live concerts that merge music and education. Our events, held at libraries, school events, community centers, and even birthday parties, spark a love for music and live performance among children in the Portland area. These experiences have transformed young lives and ignited their passion for music.
Portland Testimonials: The Impact of Rock Dojo Live Concerts
Our Rock Dojo live concerts in Portland have received rave reviews from attendees. Hear from parents, teachers, and community members about the positive effects of these musical events on the children and their love for music.
Peter McKay from Abernethy Elementary School PTA couldn't contain his excitement, "Rock Dojo simply ROCKS! The picture of nearly 100 kids dancing on the playground to Rock Dojo's awesome set was something I won't soon forget. Can we book you again already for next year?! The kids are already asking!"
Another PTA member, Travis Young agrees, "RockDojo does live events! They played at our school's Fun Run, providing energetic music that motivated kids and was appropriate for an elementary school audience. Everyone loved it! 100% recommend! Nothing short of epic!"
Grandmaster Dan from USWC Taekwondo Hollywood has similar praises, "Great teacher, great personality, awesome with the kids. He played guitar at my Taekwondo school, and everyone loved him. GO Rock Dojo."
Finally, Alagia Felix, Living Cully Community Engagement Coordinator, gives Rock Dojo a perfect score, "10 out of 10. Would recommend. The Rock Dojo is the professional, enthusiastic, family-oriented talent you need for your next shindig! Book them. You won't regret it."
These testimonials speak volumes about the transformative power of Rock Dojo's live concerts in Portland, OR.
Rock Dojo Live Concerts: A Key Ingredient in Successful Portland Fundraisers
Our concerts are not just about entertainment; they have also played a pivotal role in school fundraising events in Portland, OR. Rock Dojo has been instrumental in helping schools like Abernethy Elementary raise substantial funds for their initiatives. Notably, our participation in Abernethy's annual Fun(d) Run and Tour de Ladd contributed to a remarkable collection of over $64,000. Our vibrant, interactive performances are fun and effective in driving support for important educational causes.
Empowering Portland Kids through Rock Dojo Live Concerts
At the heart of Rock Dojo's mission in Portland is empowering children. Our live concerts create an environment that encourages self-expression and participation, inspiring children to find their voices through music.
Fostering Community through Rock Dojo Live Concerts in Portland
Rock Dojo live concerts are about more than just music. They bring together students, teachers, and parents in a celebration of music and collective action, strengthening community ties and shared purpose in Portland.
Sample Video: The Magic of Rock Dojo Live Concerts in Portland
Dive into the excitement of a Rock Dojo concert with this video clip. Witness the sheer joy and enthusiasm of Portland children fully engaged in the live performance. Imagine this energy and lasting memories being part of your next school event with a live Rock Dojo concert in Portland.
Join the Rock Dojo Live Concert Experience in Portland, OR
Bring the magic of music to your child's life with Rock Dojo live concerts in Portland, OR. Contact us today to learn about upcoming concerts or to book a Rock Dojo concert for your next library event, school fundraiser, community gathering, or birthday party. Experience the transformative power of music and watch your child's passion for music come alive. Reach out to us now to bring the Rock Dojo experience to your Portland event! Connect with Rock Dojo on Facebook and Instagram for behind-the-scenes footage, tips & tricks, and free guitar lessons.