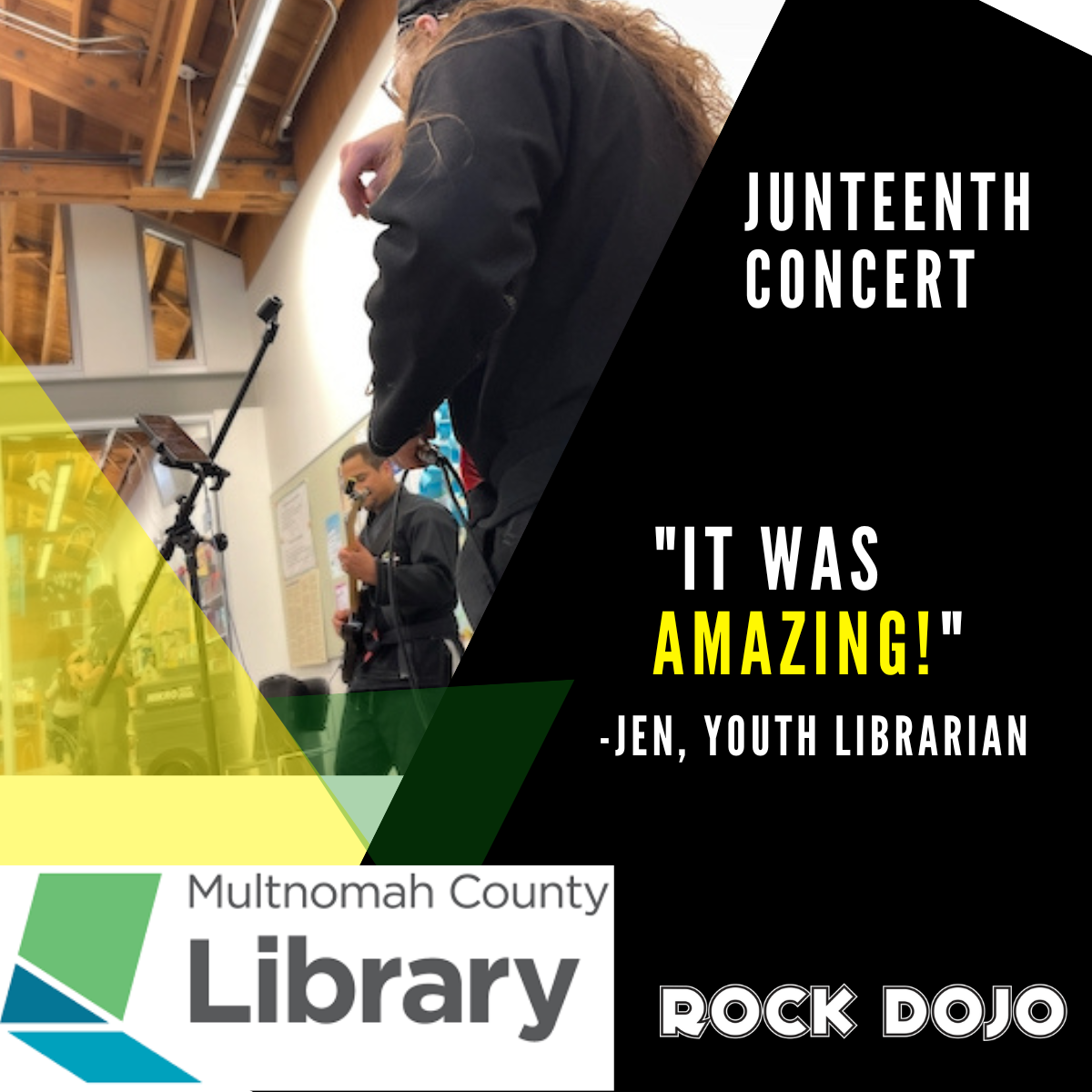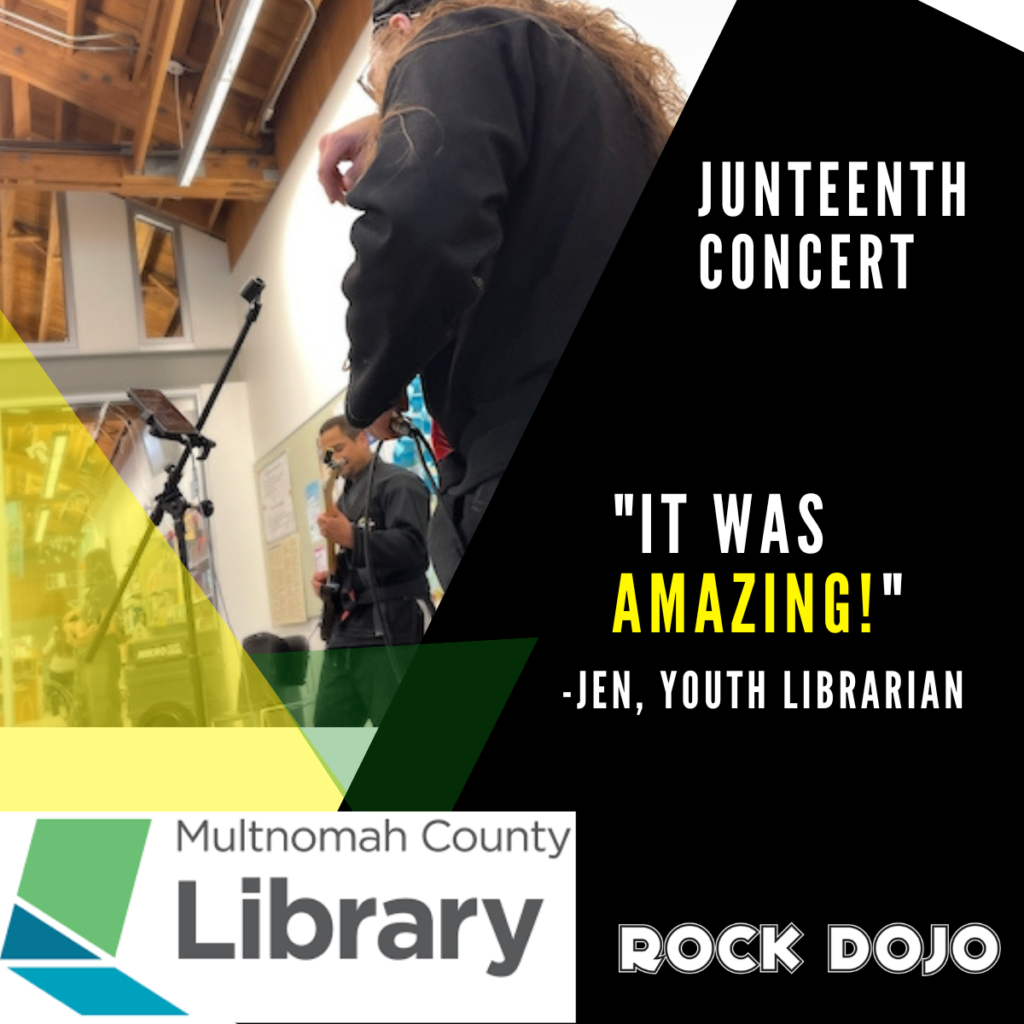 Relive the magic of the Juneteenth kids rock concert for kids at the Kenton Library in Portland, Oregon. This sensational event, organized by Rock Dojo, brought together families, young rock enthusiasts, and passionate musicians for an unforgettable experience in Portland, OR. Let's dive into the highlights and excitement of this incredible concert as we gear up for the next round of Rock Dojo performances in Portland!
It was AMAZING

Jen May, Mulntomah County Library Youth Librarian
Rocking Out at the Juneteenth Kids Rock Concert for Kids in Portland, OR
Experience the thrill and energy that filled the air as Rock Dojo founders Brian Parham and Andrew Stromstad took the stage. The concert ignited the audience with electrifying performances, delivering a captivating show with everyone rocking and dancing along in Portland, OR. From the moment the music started, it was clear that this was an experience like no other, right in the heart of Portland! Learn more about rock dojo concerts for kids.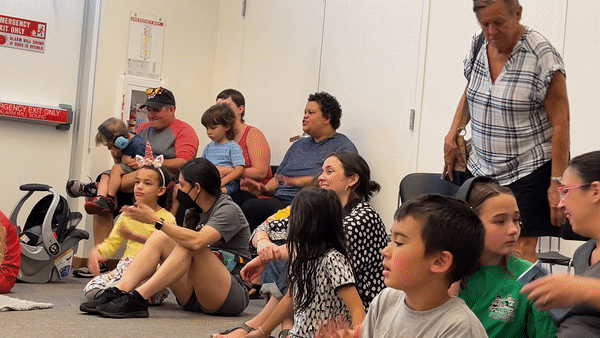 Electrifying Kids Rock Concert Performances that Ignite Young Minds in Portland, OR
The Juneteenth rock concert for kids was a testament to the power of music in inspiring and engaging young minds in Portland, OR. Brian and Andrew's dynamic performances showcased their musical talent and passion, leaving a lasting impression on the audience. The carefully crafted compositions, designed specifically for kids, brought joy and excitement to children and parents alike, creating a truly immersive experience for all attendees in Portland!
Testimonials: Delight and Inspiration in Portland, OR
Here are what some attendees had to say about their experience at the Juneteenth Kids' Rock Concert in Portland, OR:
Tyleena, a delighted concert-goer, shared her experience: "My four-year-old and I had an unforgettable time at the Juneteenth Kids' Rock Concert in Portland, OR. We were both completely engrossed in the electrifying performances and couldn't help but rock out together! This event provided a unique opportunity for my child to appreciate live music and be inspired by talented musicians. We're grateful to Rock Dojo for organizing such a fantastic concert for kids in Portland."
Jen, the enthusiastic youth librarian, also commended Rock Dojo for their program and its impact on the attendees. She praised their ability to seamlessly set up and deliver an exceptional experience in various venues: "It was AMAZING! I have already written a piece for the next Youth Services weekly newsletter, encouraging my fellow Youth Librarians to book Brian and Rock Dojo! Great program with great music. Brian was inspiring when he spoke about the importance of music, and they are well-versed in coming into new, unfamiliar spaces and getting everything set up and taken down quickly and easily as pie. So nice! Thank you again, Brian, to you and your team!"
These testimonials reflect the delight and inspiration experienced by attendees at the Juneteenth Kids' Rock Concert in Portland, OR. Join the Rock Dojo movement and participate in the following incredible concert experience for kids in Portland.
Join the Rock Dojo Movement and Let Your Child Rock Out at the Best Kids' Concert in Portland!
Are you inspired by the Juneteenth rock concert for kids in Portland, OR? Join the Rock Dojo movement and let your child unleash their inner rock star at the best kids concerts in Portland! Stay updated on upcoming concerts, interactive guitar lessons, and opportunities to experience the magic of Rock Dojo firsthand in Portland. Whether you're organizing a community event, school assembly, or special occasion in Portland, bring the power of Rock Dojo to your next gathering. Contact us now, and let's create an unforgettable experience in Portland, OR! Don't forget to follow us on Facebook and Instagram for more backstage access.