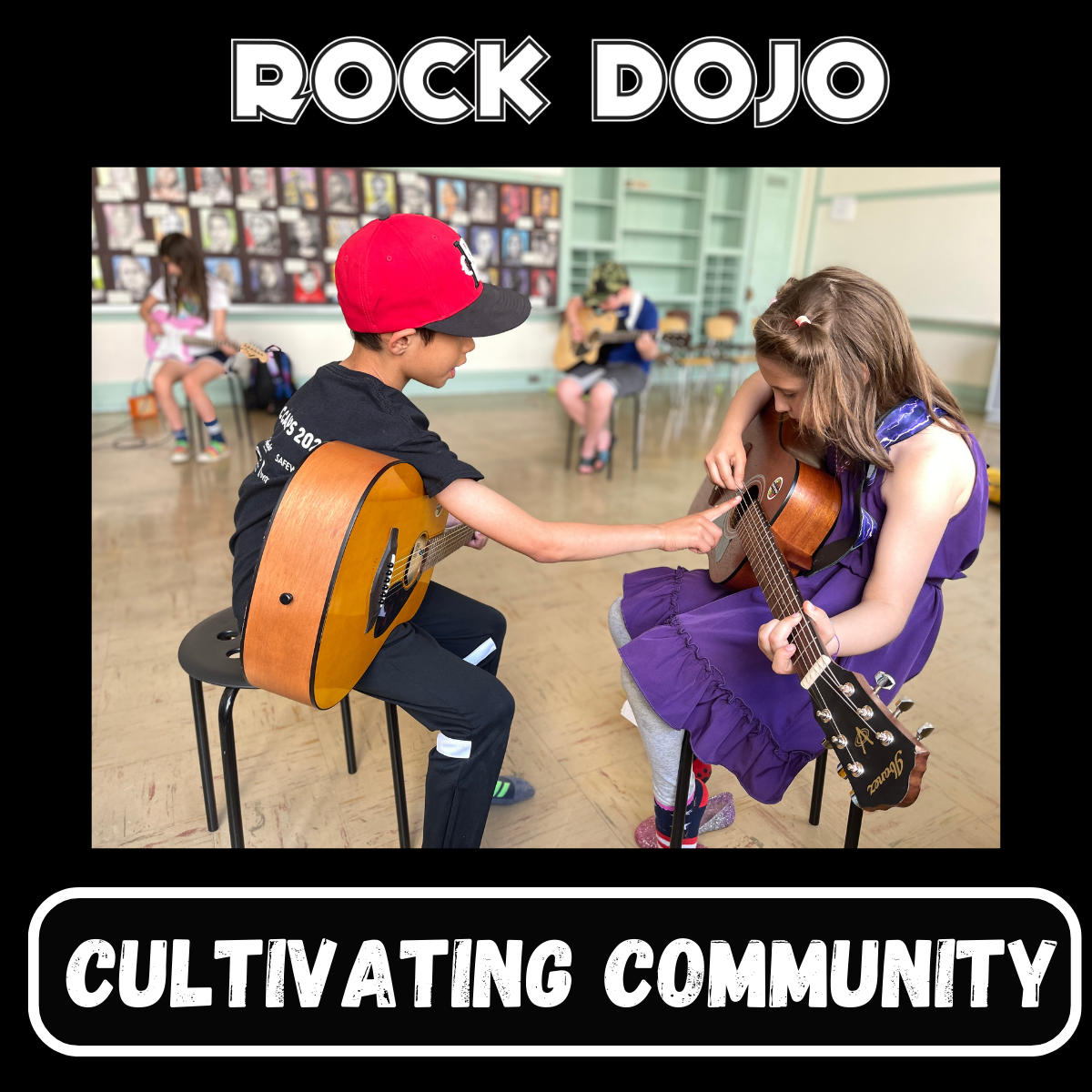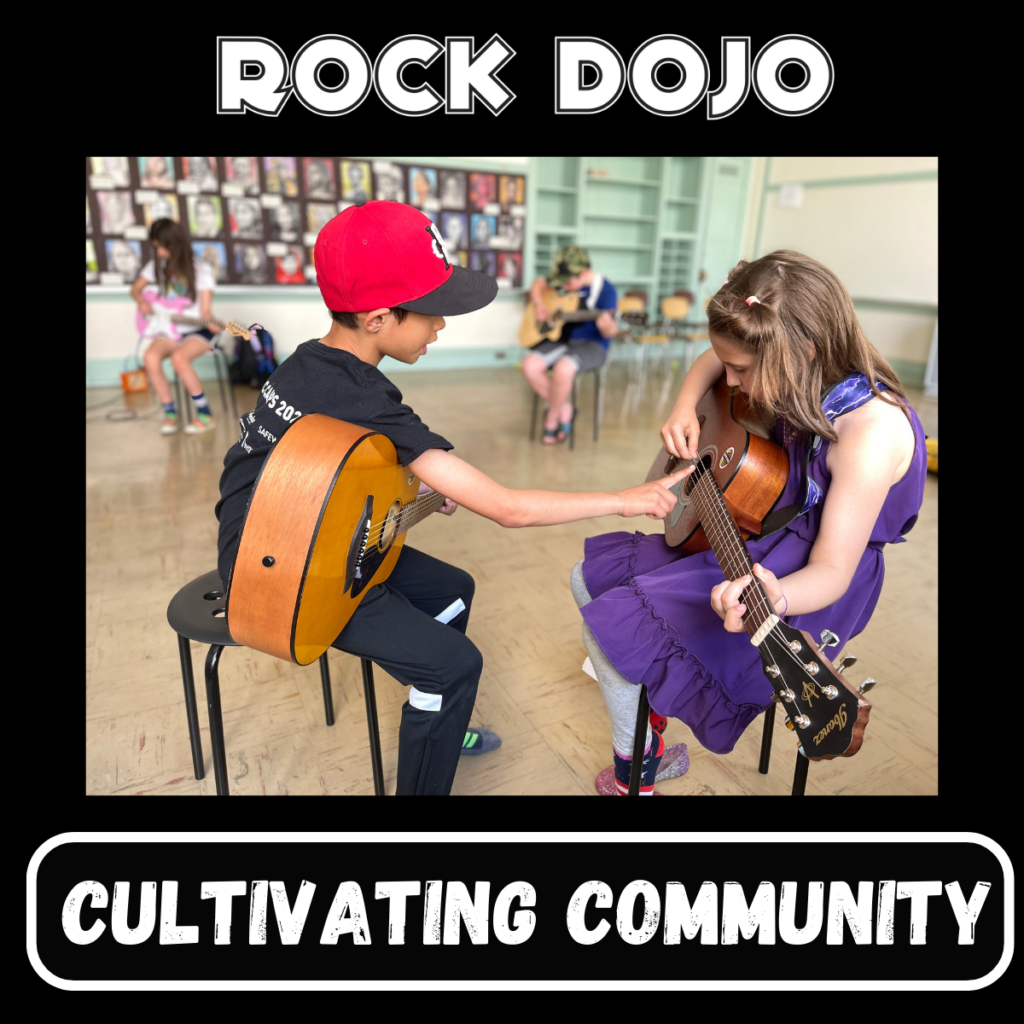 Centered in Portland, OR, and extending globally through online education, Rock Dojo brings guitar lessons for kids to schools and homes, igniting a passion for music in aspiring young musicians everywhere. Our unique blend of engaging in-person and self-paced online guitar lessons has turned Rock Dojo into a global platform. We are committed to nurturing a lifelong passion for music and fostering a vibrant community among our young rockers, regardless of their location. Today, we delve into how our innovative programs cultivate musical skills, instill a sense of belonging, and inspire a lifelong love for music.
Rock Dojo Philosophy: Guitar Lessons for Kids Inspiring Love for Music
At Rock Dojo, we believe in the power of music as a tool for education, creativity, and personal growth. Our Portland, OR-based after-school program lies at the heart of our endeavor, sparking interest in music and creating a solid foundation for lifelong musical development through a dynamic guitar ensemble experience.
Our curriculum, structured around earning a "Black Belt in Rock," makes learning fun and rewarding, keeping students engaged and motivated. This approach offers an extraordinary opportunity for kids to grasp the concept of teamwork and unity, building their confidence as they synchronize their tunes with others and appreciate the value of each member's contribution.
The Harmonious Guitar Ensemble: A Key Part of our Guitar Lessons for Kids
One of Rock Dojo's defining aspects is the harmonious guitar ensemble community we cultivate among our students. This component is not just about mastering music; it's also about learning the essentials of collaboration, patience, and listening. As the students strike chords together, they realize their roles contribute to a much larger, more beautiful sound. This realization helps boost their confidence, enriches their musical journey, and provides a gratifying shared experience that empowers them to keep improving. Rock Dojo students learn to rock together through these guitar ensemble classes, fostering a vibrant community connected by a shared passion for music.
Rock Dojo's Live Concerts
Beyond our dynamic guitar lessons for kids, Rock Dojo stages live rock concerts designed to ignite our young students' love for the guitar. These performances entertain and serve as a powerful inspirational model, showing students the exciting potential of mastering the guitar. These high-energy concerts aim to spark their enthusiasm for rock music, showcasing the exciting world they can explore through their dedication and practice. In offering these immersive concert experiences, we're not just teaching guitar techniques—we're kindling a lifelong passion for music that can inspire our students to reach for their rockstar dreams.
Expanding Our Guitar Lessons for Kids Community Across Locations
One of Rock Dojo's standout features is the vibrant community we nurture among our students. Group classes and live concerts allow students to connect with fellow aspiring musicians, fostering a sense of camaraderie and mutual support.
Our Rock Dojo community extends beyond Portland, echoing to Kansas. As part of the Kansas Education Enrichment Program (KEEP), our guitar lessons have been incorporated as an enriching educational activity. This noteworthy achievement is a testament to our commitment to spreading a lifelong love for music and fostering a vibrant musical community in different locations.
Guitar Lessons for Kids Tailored to Individual Learning Styles
Every child learns differently, and at Rock Dojo, we acknowledge and celebrate these differences. Our comprehensive offerings – including online group lessons, private lessons, e-book guitar lessons, and video-on-demand lessons – provide options for different learning styles and paces. This flexibility allows students to learn quickly in the comfort of their homes.
Mastering Guitar Basics: An In-Depth Video Tutorial for Beginners
Start your child's musical journey with a sample Rock Dojo Complete Series guitar lesson for kids. This beginner-friendly tutorial provides a clear overview of the guitar's various parts, laying the groundwork for your child's rockstar dreams. Start mastering the guitar basics today with this fundamental step.
Success Stories: Transformation and Growth Through Our Guitar Lessons for Kids
The testimonials from our "Rock Ninja Families" are a testament to the transformation and growth experienced by our students. We've witnessed numerous success stories from budding guitarists like Darwin, who transitioned from a beginner to a black belt, to others who experienced confidence and social skills boosts. Each journey fuels our commitment to providing transformative and enriching experiences through our music programs.
Conclusion: A Rocking Future!
At Rock Dojo, we are committed to igniting creativity and fostering a lifelong love of music in every child. Our engaging programs and supportive community create the perfect environment for kids to explore their musical potential while having fun. Experience Rock Dojo today, and together, let's make the world a more musical place, one rock star at a time. Let your child embark on a thrilling journey of learning guitar, where they can gain invaluable skills, build lasting friendships, and ultimately, unleash their inner Rock Ninja. Join us today and give your child the gift of music – a gift they'll cherish forever.
Dive into the World of Rock Guitar with Rock Dojo's Complete Series!
Open the doors to a world of musical prowess with our Rock Dojo Complete Series. With an investment of just $249, you provide your child with a learning experience equivalent to 40 private guitar lessons—a savings of nearly $2,400! Our award-winning curriculum offers not just the mastery of the guitar but also a boost in self-esteem and discipline. Join us today and let your child's musical potential shine through the Rock Dojo Complete Series. Connect with us on Facebook or Instagram if you have any questions. Sign up now and let the musical journey begin!