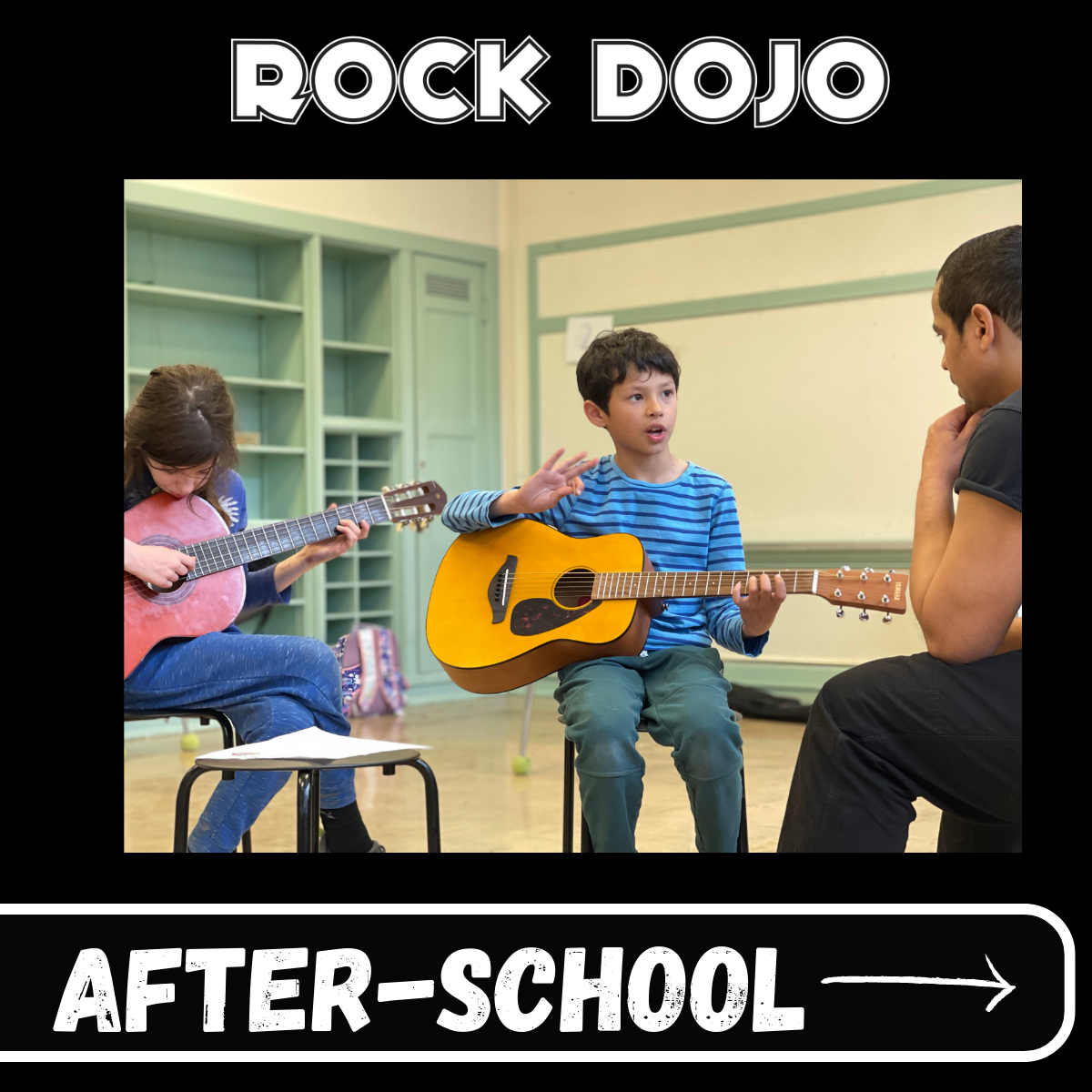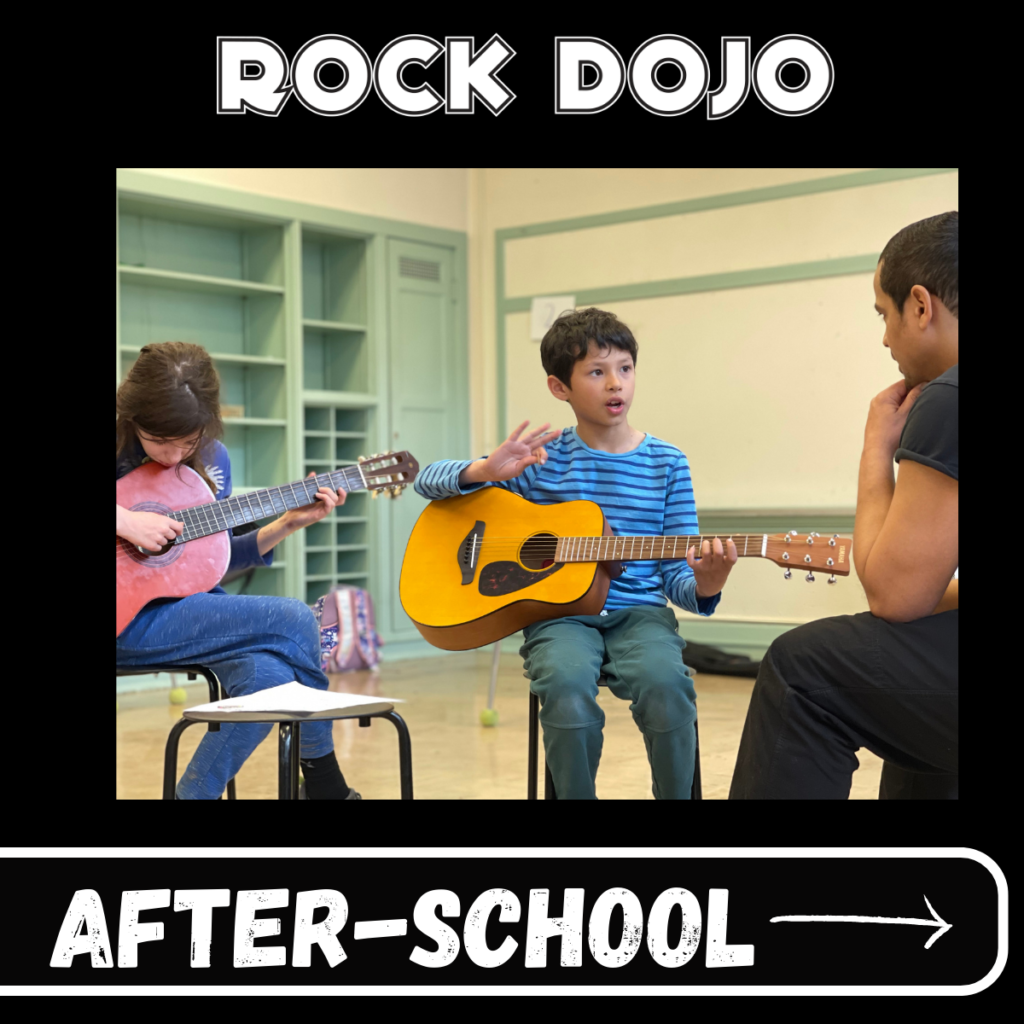 Rock Dojo, an award-winning after-school guitar program in Portland, Oregon, is helping kids tap into their inner rock ninja by combining musical literacy, essential guitar techniques, and iconic riffs. As children embark on this musical journey, they develop their guitar skills and enhance their creativity and discipline. Research shows that playing an instrument, like the guitar, can benefit children in multiple ways, including improving cognitive abilities and developing perseverance (Schellenberg, 2006; Costa-Giomi, 2015).
After-School Guitar: Rock Dojo's Award-Winning Program for Kids
The comprehensive after-school program includes e-courses, student handbooks, and certificates of completion to celebrate the achievements of young rockers. With a structured curriculum and engaging lessons, students progressively gain confidence and discipline through the belt system, culminating in a Black Belt in Rock. Studies have found that music education can foster self-esteem and a sense of achievement, leading to increased motivation (Hallam, 2010).
Nurturing Creativity and Versatility through Various Musical Styles
Children nurture creativity and become versatile musicians by exploring various musical styles and techniques. Additionally, group ensemble activities and performances foster social and collaborative skills, enriching their overall experience. Research has shown that playing an instrument in a group setting can promote teamwork and improve social skills (Kirschner & Tomasello, 2010).
Personalized Support in After-School Guitar Lessons
Personalized feedback and support from experienced instructors ensure that students receive the guidance they need to succeed. Instructors are dedicated to helping children grow as musicians and achieve their goals. A study by Creech et al. (2013) found that one-on-one support from music teachers can enhance students' learning experiences and outcomes.
Real-Life Testimonials: The Impact of After-School Guitar Classes
Real-life testimonials from Rock Ninja families attest to the benefits of the after-school guitar lessons. Children eagerly demonstrate their newfound skills and develop a broader appreciation for music. The program has also been praised for motivating kids to practice independently, further honing their skills, and fostering a lifelong love for the instrument. This aligns with research findings that music education can contribute to a greater appreciation for and engagement with music (Catterall et al., 2012).
Engaging After-School Guitar Classes Inspire Independent Practice
April Panowicz shared that her kids, who had never learned any musical instrument before, love Rock Dojo. They came home after their second lesson playing "Brain Stew" by Green Day, which both parents loved. April appreciates that the lessons move quickly, keeping the kids engaged and that they practice on their own without any parental pushing.
First-Term Success in After-School Guitar Lessons
Silvia Gozzini reported that her kids loved the first term and eagerly anticipated the next. Brian successfully sparked their enthusiasm for guitars, with their 8-year-old even asking for an amp as a Christmas gift.
Any parental pushing.
Unique Curriculum & Memorable Live Events in After-School Guitar Lessons
Travis Young praised Brian and Rock Dojo for their unique curriculum, noting his 9-year-old son's remarkable progress. The belt system, which allows kids to earn belts towards a black belt, gives the students real goals to attain. Travis also shared a positive experience with Rock Dojo's live events, which were high-energy, fun, and perfect for a school fundraiser.
Enroll Today: Transform Your Child into a Confident, Creative, and Disciplined Musician
Rock Dojo's after-school guitar lessons balance fun, skill development, and passion, creating a memorable experience that shapes children into confident, creative, and disciplined musicians.
Transform Your Child with Rock Dojo's After-School Guitar Lessons
Whether you live in Portland, OR, or not, you can still experience the power of Rock Dojo with our Complete Series. Featuring 77 professionally produced videos, five student handbooks, on-screen guitar tab, backing tracks, and more, the Complete Series is the ultimate self-paced guitar instruction available for kids! Sign up for Rock Dojo after-school classes if you live in Portland, or start your child's musical journey with the Complete Series today. Don't forget to follow Rock Dojo on Facebook and Instagram for behind-the-scenes footage, tips & tricks, and so much more!
Works Cited
Schellenberg, E. G. (2006). Long-term positive associations between music lessons and IQ. Journal of Educational Psychology, 98(2), 457-468.
Costa-Giomi, E. (2015). The long-term effects of childhood music instruction on intelligence and general cognitive abilities. Update: Applications of Research in Music Education, 33(2), 20-26.
Hallam, S. (2010). The power of music: Its impact on children and young people's intellectual, social and personal development. International Journal of Music Education, 28(3), 269-289.
Kirschner, S., & Tomasello, M. (2010). Joint music-making promotes prosocial behavior in 4-year-old children. Evolution and Human Behavior, 31(5), 354-364.
Creech, A., Hallam, S., McQueen, H., & Varvarigou, M. (2013). The power of music in the lives of older adults. Research Studies in Music Education, 35(1), 87-102.
Catterall, J. S., Dumais, S. A., & Hampden-Thompson, G. (2012). The arts and achievement in at-risk youth: Findings from four longitudinal studies. National Endowment for the Arts Research Report #55.