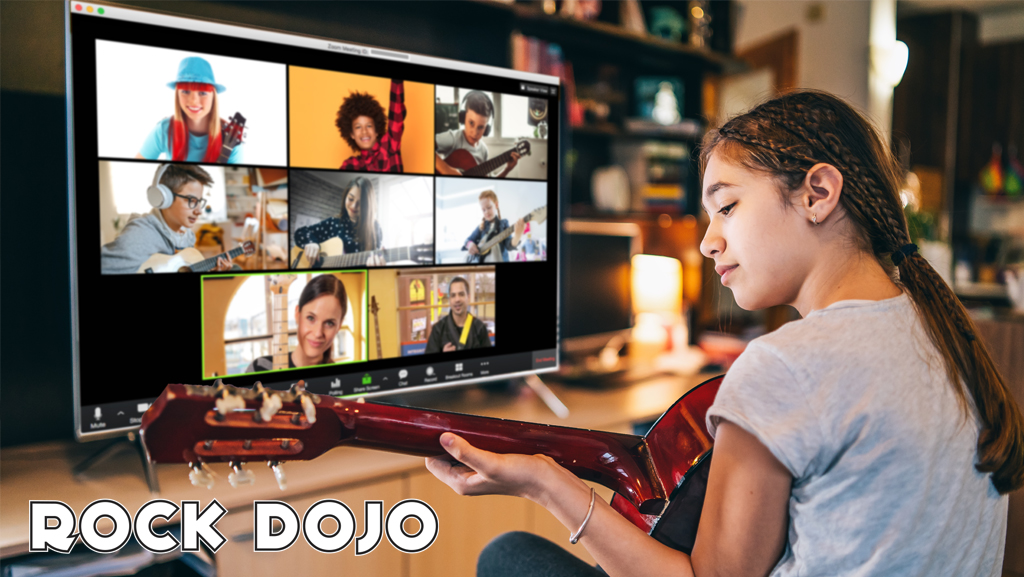 ONLINE GROUP GUITAR LESSONS FOR KIDS
Playing the guitar can be an enriching experience, especially for children. But with busy schedules and a lack of local options, finding quality guitar lessons can be challenging. That's where online group guitar lessons come in. These lessons offer a fun and effective way for kids to learn guitar from the comfort of their own homes while still benefiting from the social and motivational advantages of a group setting. Whether your child is just starting or ready to take their skills to the next level, Rock Dojo's online group guitar lessons provide a safe and affordable option to help them achieve their musical goals.
Rock Dojo is the only place your kids can get a black belt in rock!

Hi! We are Sophie and Brian, co-founders of Rock Dojo. Rock Dojo is an award-winning guitar lesson system trusted by parents and kids. We believe every child should have access to high-quality music education.
About Rock Dojo's Online Group Guitar Lessons
Our online group guitar lessons for kids offer a structured curriculum that's both fun and effective, taking students on a journey from white to black belt in rock. By mastering the essential skills of guitar playing, including reading music, playing chords and scales, and building solos, students gain a deep understanding of music that stays with them for life.

When you sign up for group classes, you get a single course based on your belt color. Your belt color determines which group class you take. You will sign up for the Group Class if you are a White, Yellow, or Green belt. Sign up for the Advanced Group Class if you are a Red or Black Belt. Each group class allows you to level up one belt color.
Each course comes with the following:


Signing up is as easy as 1-2-3. Just follow the instructions below. First, pick a time, then provide your info and confirm. Class begins on 4-20-22 at 4:30 PM PST. $297

Signing up is as easy as 1-2-3. Just follow the instructions below. First, pick a time, then provide your info and confirm. Class begins on 3-24-22 at 5:30 PM PST. $297

More Affordable: Group guitar lessons cost about HALF the price of private guitar lessons.
More Social: Group guitar lessons are a great way to make new friends and participate in a global learning community.
More Motivating: Group guitar lessons leverage the power of positive peer pressure, so students are more motivated to practice at home.
More Fun: More students mean more opportunities to play educational games, share musical interests, and encourage each other.
Safer: Online group guitar lessons have all the benefits of in-person guitar lessons without COVID-19 risks.

Rock Dojo will help your child start playing the guitar right for FREE. That's right! Sign up for Rock Dojo's bi-weekly newsletter, and you'll receive three free online guitar lessons for kids. Throughout this free introductory guitar course, the guitar sensei will teach your child how to hold the guitar, how to read guitar tabs, the names of the open strings, and much more. Sign up for your free guitar course for kids today! Feel free to contact us on Facebook if you have any questions!