About Brian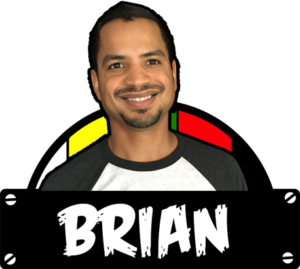 As a kid, I had two dreams: rockin' out on the guitar and kickin' butt in the martial arts. Unfortunately for my dreams, I grew up in rural Pennsylvania and lacked access to both the martial arts and music education. Later, fate intervened placing a guitar in my hands at the tender age of twenty-six, and I have never looked back!
Approaching the guitar like a mad scientist, I immersed myself into a world of music, reading every method book I could find, watching every instructional video I could get my hands on, and studying with some of the finest teachers on the planet including legendary guitarists Mimi Fox, Paul Gilbert, Patrick Greene, and Johnny Nitro.During that time, I became obsessed with developing the most effective and engaging system for teaching kids to play rock guitar.
The Rock Dojo is the culmination of all my studies and experiments in music education combined with my passion for the guitar and my love for music. Over the last five years, I won numerous academic awards and grants for my work with the Rock Dojo including a 2017 Regional Arts and Cultural Council Project Grant. Without a doubt, my life would not be the same without the guitar. Learning to rock taught me about the power of discipline, goal setting, and grit, exactly the same life skills I needed to be successful in every other area of my life.
Download Brian Parham's Resume