Thanks for Choosing Rock Dojo
Thanks joining the Rock Dojo family! You can learn more about the Rock Dojo program by visiting our FAQ's page. Below are some additional resources we wanted to share with you. Again, thank you for choosing Rock Dojo!
Guitar Pic Bracelet

Do Your Friends ROCK?
Refer A Friend & Get A
FREE Rock Dojo Pickbandz Wristband!

 

Private Lessons


One-on-one private lessons teach the fundamental guitar techniques you'll need to rock on the guitar!

 

Amigo Guitar

The Amigo AM15 Nylon String Guitar is the best budget guitar. It's affordable, durable, and it sounds great for the price!
Rock Dojo Workbook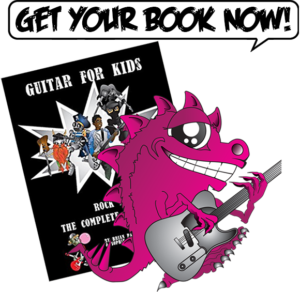 Begin your journey to the black belt. Along the way, you'll master the 5 Must-Know Musical Concepts for rock guitar, learn 11-awesome songs, and build a solid musical foundation for life!
5-REASONS TO USE THIS BOOK:
Kids will adore playing the guitar with the Rock Dojo belt system.
Parents will love celebrating their kids' achievements.
Teachers will rock a proven & successful group class model.
Kids will experience the joy of playing music with their friends.
Students will compose their own original rock songs on the guitar.
Order the Complete Belt System Workbook