About Brian, Sophie & Rock Dojo
Our mission is to provide every student in the Greater Portland Metro with the opportunity to learn to play the guitar by 2025!
| | | |
| --- | --- | --- |
| As a kid, I had two dreams: rockin' out on the guitar and kickin' butt in the martial arts. Unfortunately for my dreams, I grew up in rural Pennsylvania and lacked access to both the martial arts and music education. Later, fate intervened placing a guitar in my hands at the tender age of twenty-six, and I have never looked back!  |   | Sophie Parham is the Co-founder of the Rock Dojo. She grew up in France where she began playing the violin at age three and fell in love with the guitar later on. She has been teaching music in Northeast Portland and shares her passion for the guitar with students between ages 6 and 12. |
Rock Dojo Instructors
 

Chelsea Sue is a singer-songwriter based in Portland Oregon. She captivates audiences with her delicate angelic vocals singing vulnerable original music and covering various styles and genres of popular songs.

Before Chelsea worked solely as a performing musician, she worked with children at

summer

camps, through

after-school

programs, in childcare, and one on one with children and teenagers with special needs. She is so excited to be back in a classroom environment and to combine her love for music medicine with her desire to help children use it to their own advantage.
 

Jonathan Sherrill has been a guitarist for over twelve years. Performed, toured and recorded on countless sessions. Composed two full length albums and holds a degree in music theory. He aims to convey tranquil pieces that have marinated over time through life experiences and dreams.

Jonathan continues to compel and captivate audiences by his musicianship. Including teaching to discover your inner voice through this resonating instrument. 
 

Lisa James is a singer-songwriter whose original music combines elements of pop and Americana with an unguarded twist. She developed a love for music at an early age, practicing violin which she now teaches. She currently plays a solo as Lisa James and as a duo with Chelsea Sue.

In addition to teaching lessons for voice, violin, and guitar at Bennett Suzuki Violin Studio, she also teaches Recording Technology at Portland Community College in the Music and Sonic Arts Program.

Lisa is passionate about helping children build their skills and confidence through early childhood music education.
 

Jason is the lead teacher for the Artichoke's education outreach program with the Youth Progress Association's Alternative High School. He offers a balanced menu of Rock & Pop, Americana, Reggae, Afrobeat, Soul, Blues, Funk & Groove, flatpicking, improvisation, & beyond. Lessons are primarily focused on breaking down & understanding the ingredients of a chosen song, recommendations on technique, & tips on approaching the desired sound for performance. He provides lessons to students with a range of musical backgrounds, from absolute beginners to intermediate skill levels, including some advanced players.

Playing & performing an eclectic variety of guitar music for over 25 years he can confidently say, that he's still asking questions about it. Although thankfully many answers to these questions have been unlocked for him by his musical mentors, he has found that having discovered so many answers on his own has allowed him to share his knowledge & experience with others effectively.

His aim is to guide students towards discovery & away from pitfalls along the path to reaching their musical goals. Let him help you explore the essential skills & techniques to play the music you love.
 

Ian Uponen has been writing music and performing since early childhood. A lifelong music enthusiast, he grew up raiding his father's record collection on the daily and spending many hours headbanging in the living room to his favorite records. He studied jazz guitar and arranging at Portland State University and graduated in 2013 with a Bachelor of Arts in Music.

He has been gigging professionally, both solo and with bands, since 2005 and teaching since 2014. Ian's philosophy about music is that there is no "right" or "wrong" reason to learn how to play. Whether they want to become the next Jimi Hendrix or Beethoven or just strum chords in their bedroom, every student's education is important, valid, and deserved. He just wants to help give them the opportunity!
 

Lady Alex is a sound, recording, and technology engineer currently working as a lab tech and full-time student at Portland Community College. Majoring in the music & sonic arts AAS program as well as the coding for the artist capstone technology program. Lady A loves to collaborate and facilitate interactive community-based music and art events, shows, & workshops. She is gratefully connected to the heart of portland's independent songwriter circles. Lady A got their start in music as an independent folk singer and performer playing all around the west coast for the last near-decade.

Learning how to play guitar, sing, and write original songs all by ear. As well as traveling, volunteering, and farming being the inspirational foundation for her musical path. After completing a self-produced album and performing at the Wow Hall in Eugene, marking a milestone, she then decided to take a different turn in learning music theory and coming full circle in attending PCC. Nowadays they are in the pursuit of a career pathway at PSU in music therapy, teaching children, and providing accessible composition and recording services for the people. Feel free to reach out to them about any artistic community events needing assistance and love at ladyalex@protonmail.com or FB/IG @Sounjaneer
Award-Winning Guitar Lessons For Kids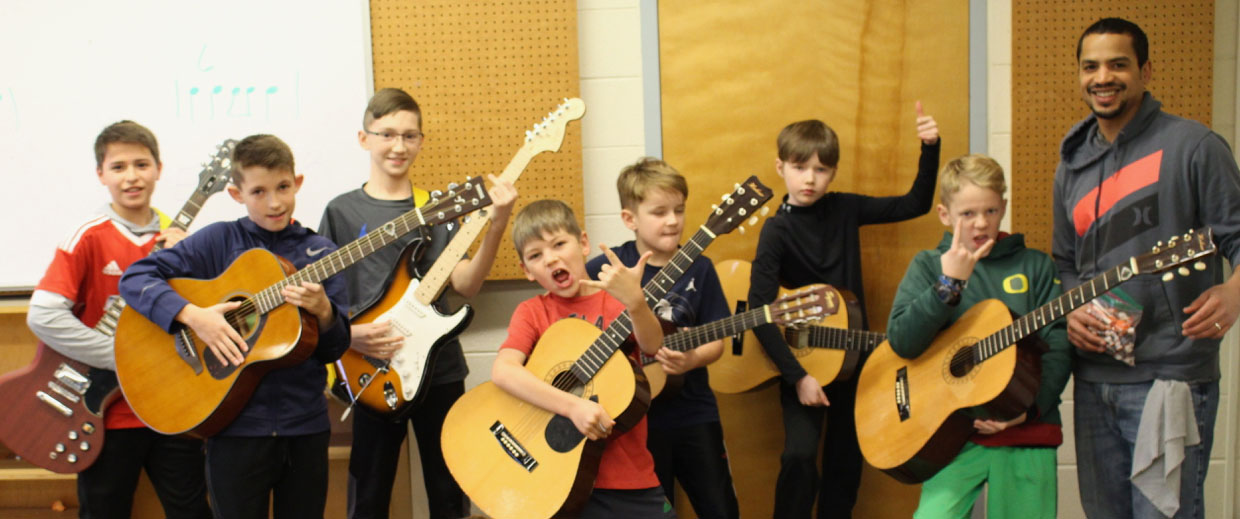 The Rock Dojo is an award-winning guitar program based in Portland, OR. Our after-school programs are designed to teach kids the transferable skills they need to be successful on the guitar or in the classroom. Based on a rewarding belt system, students begin at the white belt level progressing through five stages of skill and achievement. At each stage of their musical education, students master the skills necessary to play, perform, and compose with confidence.
Have you seen the DojoMobile?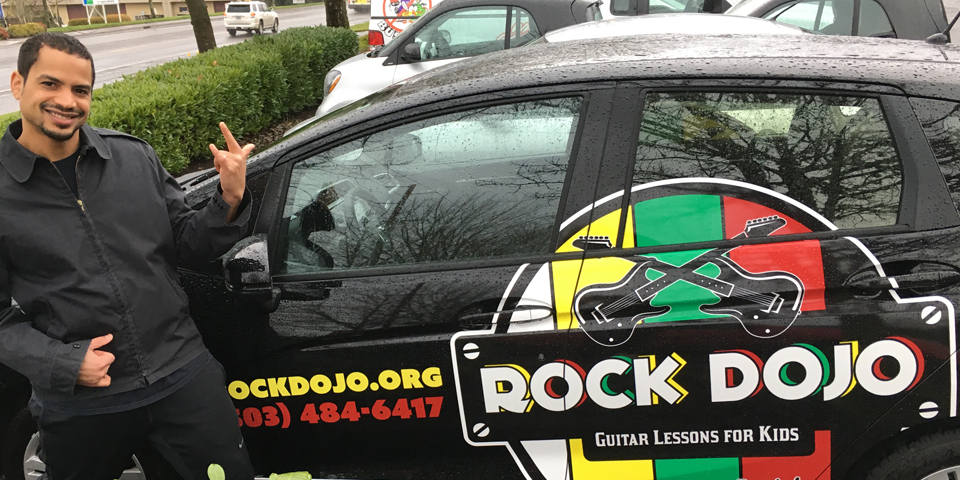 If you see us around Portland, OR stop by to say hello or take a picture and tag us on facebook @kidsrockdojo
GUITAR CLASSES, EVENTS & BOOKS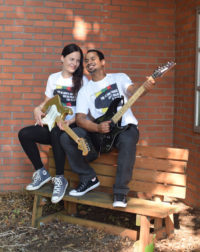 The Rock Dojo rocks Portland after-schools from 3:15 PM to 4:15 PM at Access Academy, Forest Park Elementary, Laurelhurst School, Beverly Cleary, & Irvington School.
We organize workshops for guitar beginners (Multnomah County Library, Portland's Children's Museum, RACC workshop in partnership with Multnomah County), and events (Apple Store field trip).
Families host group guitar classes and private guitar lessons at home.
We are the authors of guitar methods for kids and beginners: The Ultimate Rock Guitar Dojo for Kids: White Belt Edition
, Guitar for Beginners: Yellow Belt Edition
, and Guitar for Kids: Rock Dojo The Complete Belt System
.