About Brian, Sophie & Rock Dojo
We believe every child has the spark of greatness in them. That's why we developed an achievement-based musical curriculum designed to inspire and empower kids to do great things in music and in life.
| | | |
| --- | --- | --- |
| As a kid, I had two dreams: rockin' out on the guitar and kickin' butt in the martial arts. Unfortunately for my dreams, I grew up in rural Pennsylvania and lacked access to both the martial arts and music education. Later, fate intervened placing a guitar in my hands at the tender age of twenty-six, and I have never looked back!  |   | Sophie Parham is the Co-founder of the Rock Dojo. She grew up in France where she began playing the violin at age three and fell in love with the guitar later on. She has been teaching music in Northeast Portland and shares her passion for the guitar with students between ages 6 and 12. |
Award-Winning Guitar Lessons For Kids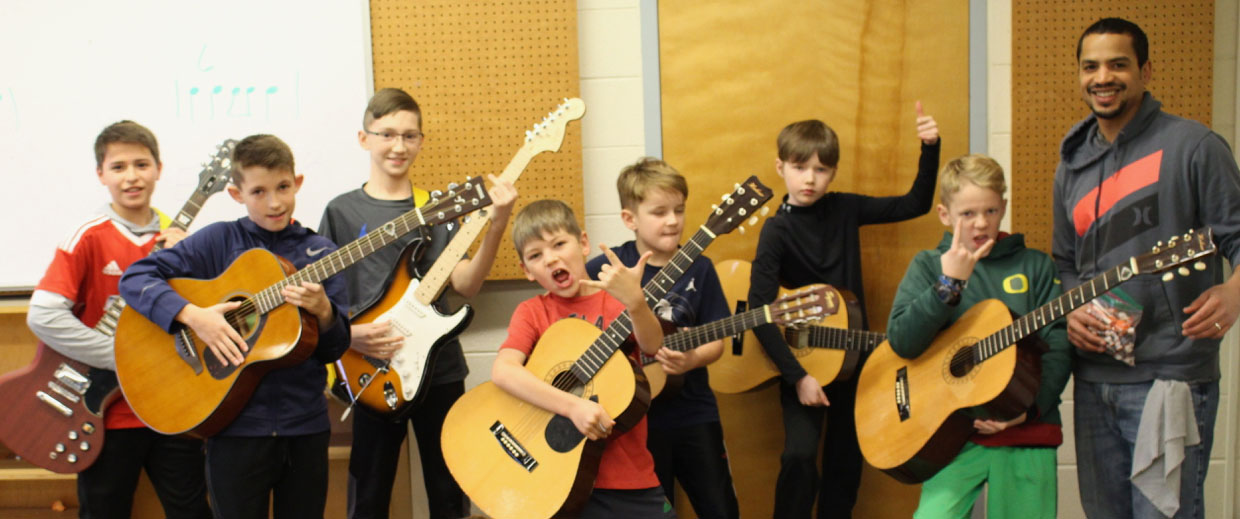 The Rock Dojo is an award-winning guitar program based in Portland, OR. Our after-school programs are designed to teach kids the transferable skills they need to be successful on the guitar or in the classroom. Based on a rewarding belt system, students begin at the white belt level progressing through five stages of skill and achievement. At each stage of their musical education, students master the skills necessary to play, perform, and compose with confidence.
Have you seen the DojoMobile?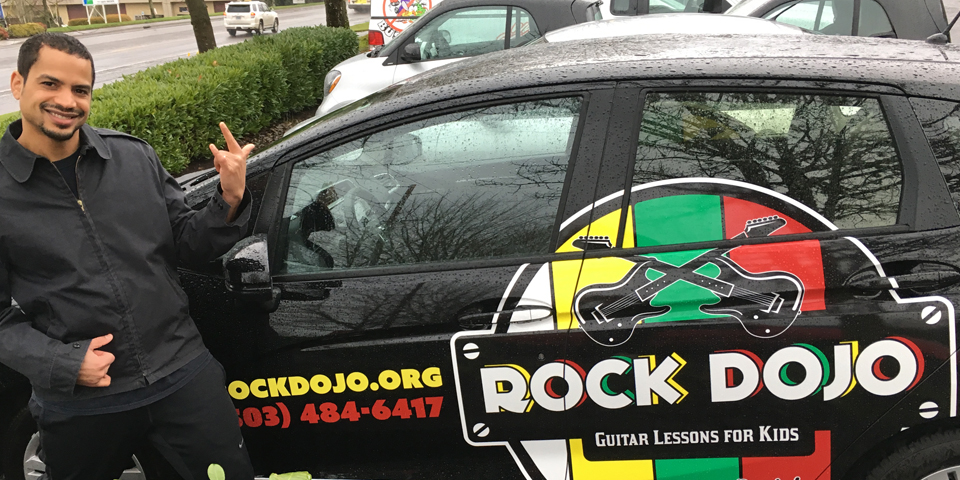 If you see us around Portland, OR stop by to say hello or take a picture and tag us on facebook @kidsrockdojo
GUITAR CLASSES, EVENTS & BOOKS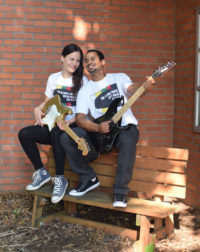 The Rock Dojo rocks Portland after-schools from 3:15 PM to 4:15 PM at Access Academy, Forest Park Elementary, Laurelhurst School, Beverly Cleary, & Irvington School.
We organize workshops for guitar beginners (Multnomah County Library, Portland's Children's Museum, RACC workshop in partnership with Multnomah County), and events (Apple Store field trip).
Families host group guitar classes and private guitar lessons at home.
We are the authors of guitar methods for kids and beginners: The Ultimate Rock Guitar Dojo for Kids: White Belt Edition
, Guitar for Beginners: Yellow Belt Edition
, and Guitar for Kids: Rock Dojo The Complete Belt System
.